Money raised by Institute of Cemetery and Crematorium Management's Recycling of Metals Scheme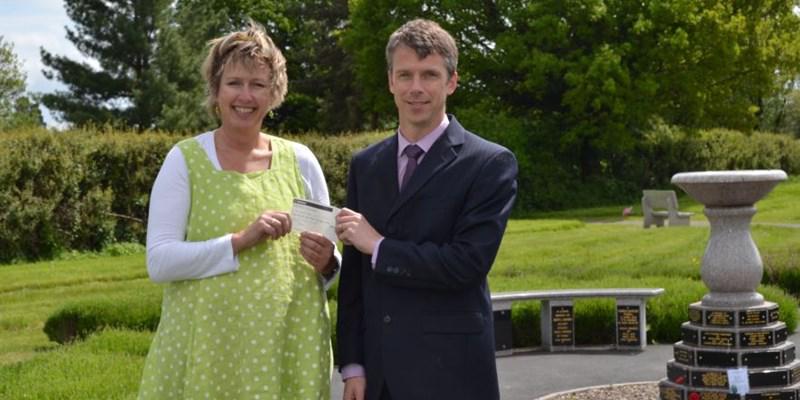 Herefordshire Council's crematorium has donated £4,444 to The Haven charity through the Institute of Cemetery and Crematorium Management's (ICCM) Recycling of Metals Scheme. The Haven centre supports women diagnosed with breast cancer with counselling, nutrition advice and a number of complementary therapies including acupuncture and massage.
Frankie Devereux, Fundraising manager for The Haven in Hereford said
"This kind donation will cover the cost of four breast cancer patients accessing the full Haven support programme. The Haven aims to help them achieve the best possible quality of life, not just while they are coping with their illness, but long into the future. A recent service evaluation shows that 91% of our visitors report improvements to their physical and emotional concerns and symptoms after coming to us"

"We are extremely grateful to the ICCM Recycling of Metals scheme, Hereford Crematorium and all the kind relatives for their generosity which means so much to us."
Councillor Graham Powell, cabinet member of economy & corporate services said,
"I am pleased that this donation will be able to help make such a difference to the lives of people challenged with the diagnosis of cancer, The Haven provides a wonderfully supportive and tranquil environment for patients and their families and friends.

The recycling scheme has been in place for several years and in that time we have been able to donate over £32,000 to different charities. We are also grateful to the families who have given permissions for money to be raised by allowing materials to be recycled."
The ICCM launched this scheme in 2005 to ensure that metal recovered from the cremated remains were recycled effectively instead of burying them in grounds thus making the whole process more environmentally friendly and valuable.The recycling of metals resulting from cremation is only carried out with the written consent of each bereaved family.
Since November 2011, under this scheme, the crematorium has so far donated £32,843 to charities such as Macmillan Cancer Support, Cruse Bereavement Care, Marie Curie Cancer Care, St Michael's Hospice, Home Start, Phoenix Bereavement Support Services, Winstone's Wish and Rocky Lee's Little Feet.
To find out more about the Haven charity and how you can get involved, please visit: www.breastcancerhaven.org.uk/hereford
For information on the services provided by Hereford Crematorium please visit www.herefordshire.gov.uk/herefordcrematorium