Forum discussed the future for business in Herefordshire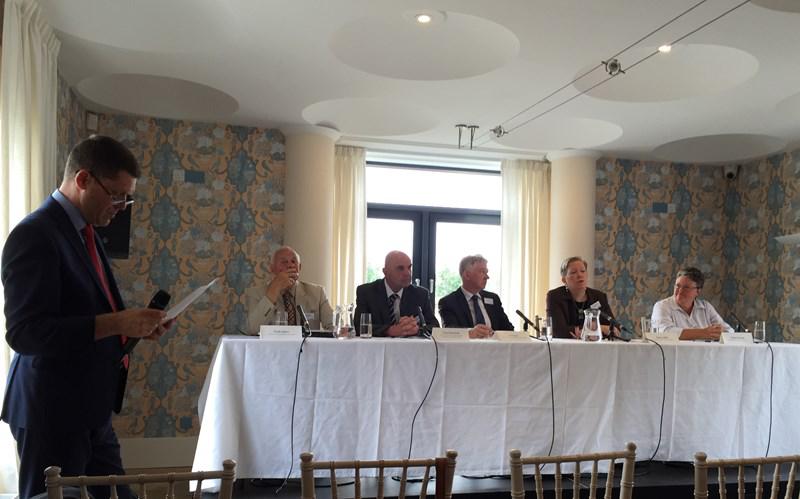 Businesses from Herefordshire, the Midlands and South Wales attended the Herefordshire Economic Forum, on Tuesday 7th June, in the Left Bank, Hereford. The event, supported by Herefordshire Council and sponsored by Haines Watts, Lanyon Bowdler Solicitors and the University of Wolverhampton Business Solutions Centre, brought together over 90 attendees to look at the future for business in Herefordshire.
Councillor David Harlow, cabinet member economy, opened the event by setting out the council's vision for economic development and the framework to enable the private sector to invest in the county.
He was then joined by a panel including Bill Jackson, Chairman of the Hereford Enterprise Zone and Marches LEP board member, who took questions on the challenges, opportunities, and incentives for companies. Martin Hitchin, Chief Executive of Rehau UK explained how Herefordshire is an excellent base for their head office and Alan Anderson from the Old Cattle Market outlined how pleased British Land was with the success of the shopping and leisure development. The second panel which included Karen Usher from the New NMiTE university project and Debbie Gittoes from Arctic Circle discussed the skills issues that businesses face and the some of the emerging solutions.
Councillor Harlow said:

"we are pleased to work with Business Insider, for this first of its kind event in Herefordshire and it was great to see so many businesses from across the region interested in understanding what Herefordshire has to offer. There are a number of current and emerging opportunities for businesses in Hereford including the Hereford Enterprise Zone, the NMiTE university project and improved virtual and physical connectivity".
Published: Monday, 13th June 2016