Herefordshire Council show support to the Armed Forces, their families and veterans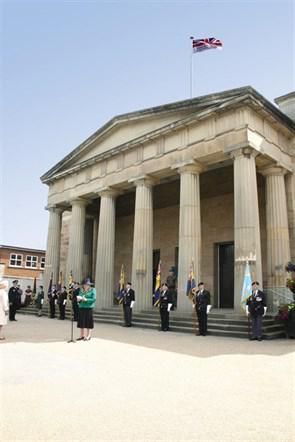 A special flag raising ceremony to mark the beginning of Armed Forces Week will take place at the Shire Hall in Hereford at 10.15 on Monday June 20.
The Lord-Lieutenant, Lady Darnley, The Chairman of Herefordshire Council and senior figures from all three services will be present at the ceremony, as well as Dr Mike Seeley, Colonel with the Royal Army Medical Corp/Army Medical Services representing the Wye Valley NHS Trust
Brian Wilcox, Chairman of Herefordshire Council said:
"I welcome this annual opportunity for Herefordshire Council to show our support for the Armed Forces, the families and veterans: all of whom are giving and have given tremendous service to the country"

This year, particular focus will be on commemorating the Battles of Jutland and the Somme just one hundred years ago. Ledbury will be the centre of Saturday's Armed Forces Day events with the former First Sea Lord, Admiral Sir Jock Slater and Lieutenant General Sir John Foley being specially invited guests."
Herefordshire's commemoration of the centenary of the events of 1916 will be taking place in the High Street in Ledbury on Saturday June 25, from10 am to 4pm including activities commemorating the events of 1916.
Today's armed forces are planned to be represented in a parade by The Guard and Colours of HMS LEDBURY and detachments from the county's Sea, Army and Air Cadets, accompanied by the Band of the West Midlands Fire Service and the Royal British Legion County Rally. Soldiers of yesteryear will be recalled by several living history groups including a working replica WW1 tank. The band will entertain the public along with local choral and brass ensembles. The parade will take place from 2.30 until 3.30 p.m. A booklet describing the battles of Jutland and the Somme will be available free on the day
In the evening there will be a ticketed commemoration concert in Ledbury Church, performed by renowned organ and trumpet soloists Jennifer Bate and Crispian Steele-Perkins and featuring the local school choir.
The aim of Armed Forces Day is to raise public awareness of the contribution made to our country by those who serve and have served in Her Majesty's Armed Forces, and give everyone an opportunity to show their support for the men and women who make up the Armed Forces community - from currently serving troops to Service families and from veterans to cadets.
For more information on Herefordshire council's information and support available for armed forces personnel and families please visit www.herefordshire.gov.uk/armedforces
For more information on Wye Valley Trust's commitment to the Armed Forces Corporate Covenant please visit www.wyevalley.nhs.uk/media/218157/Armed_Forces-Corporate-Covenant-Wye-Valley-NHS-Trust-June-2015.pdf