Herefordshire raises the Armed Forces flag to mark the beginning of Armed Forces Week 2022
Special flag raising ceremonies to mark the beginning of Armed Forces Week took place in Hereford, the market towns and at the County Hospital on Monday 20 June.

Her Majesty's Lord-Lieutenant of Herefordshire Mr Edward Harley OBE, The Chair of Herefordshire Council, Councillor Sebastian Bowen, Mayor of Hereford Councillor Martin Dykes and senior figures from all three Armed Forces Services attended the event in High Town, Hereford, with invited guests representing military charities, the Armed Forces and the veteran community. Onlookers welcomed the return to a more public show of support, after two years of restricted access to the public, including special tributes by pupils from Riverside Primary School and Lord Scudamore Primary Academy.

Armed Forces Week (20-25 June) is a chance to give thanks to the men and women who make up the Armed Forces community, from currently serving troops to service families, veterans and cadets.

Her Majesty's Lord-Lieutenant of Herefordshire Mr Edward Harley said:
"I am delighted that Flag Raising will be taking place in High Town, Hereford, this year. The tragic conflict in Ukraine serves to remind us of the importance of our Armed Forces, and it is most appropriate that this ceremony to recognise their contribution will take place in the heart of our City. This ceremony marks the beginning of Armed Forces Week, which culminates with Armed Forces Day, and will be celebrated in style in Ross-on-Wye on Saturday 25 June."

The Chair of Herefordshire Council Councillor Sebastian Bowen said:
"This year is a very special anniversary for Armed Forces in Herefordshire. It is 40 years since the invasion of the Falkland Islands by the Argentine Military; prompting an amazingly well coordinated and efficient response from Britain, and Her Armed Forces, ably supported by tremendously willing and effective civilian support, including many ships crewed by the merchant navy.

"As so often, our Armed Forces often have to pay a heavy price for their gallantry, and sad to say, in this case, 28 military personnel with a strong connection to Herefordshire paid the ultimate price, including our special forces. I know that their example of steadfastness, enterprise and courage will resonate down the years and continue to inspire us all."
An Armed Forces flag will also fly throughout the week at Hereford County Hospital. It is a fitting tribute to members of staff who not only previously served their country, but are now in frontline and essential roles at Wye Valley NHS Trust and Herefordshire and Worcestershire Health & Care NHS Trust.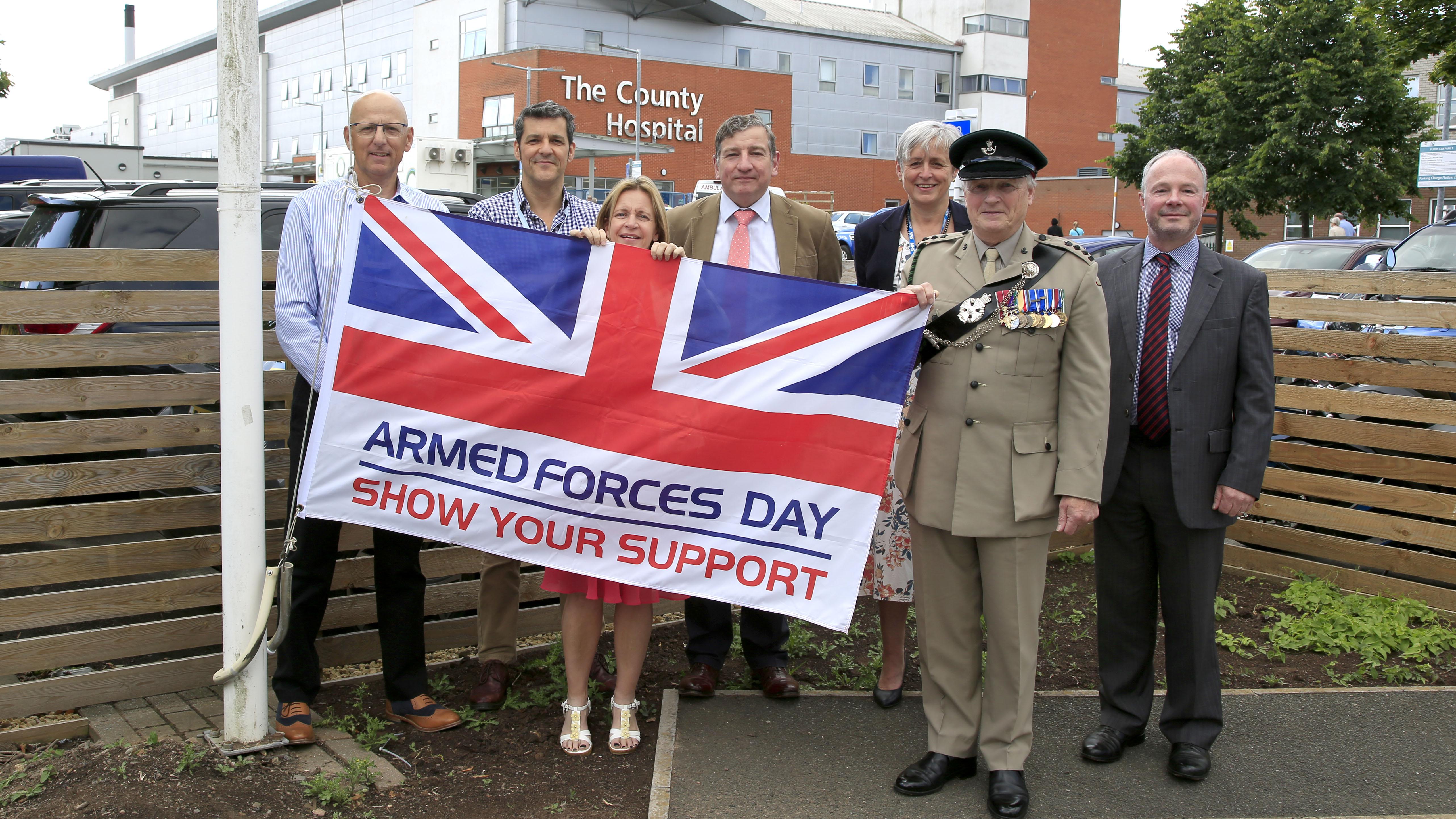 Erica Hermon, Associate Director of Corporate Governance for Wye Valley NHS Trust, said:
"We are extremely proud to honour our colleagues who previously served in the Armed Forces by raising the flag at Hereford County Hospital. These staff bring a wealth of experience and knowledge to the Trust and healthcare as a whole, which is invaluable. We would also like to thank the serving Armed Forces personnel who supported us during the pandemic by working in our hospitals and at the COVID-19 vaccination HUBs."
Susan Harris, Director of Strategy and Partnerships at Herefordshire and Worcestershire Health and Care NHS Trust, added:
"I am really proud to stand alongside our partners at today's flag raising ceremony to mark Armed Forces Week. We have strong connections to the armed forces community across Herefordshire and Worcestershire and I wanted to express our gratitude for their continued bravery, hard work and dedication.

"As a Veteran Aware organisation we're committed to recognising the specific needs of our armed forces community, and work to ensure our services are responsive and able to provide the help and support which they may require."
On Saturday 25 June, Ross-on-Wye will host Armed Forces Day on behalf of Herefordshire. There will be a variety of activities on the Rope Walk by the riverside, with bands, a flypast, military and vintage vehicles, demonstrations, food and drink. This free event is ideal for the whole family to show their support to our Armed Forces. Further details can be found at https://www.rosstc-herefordshire.gov.uk/event/armedforcesday/