Money raised for local cancer charity in Hereford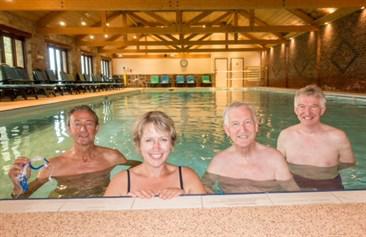 The chairman of Herefordshire Council, Brian Wilcox, completed his charity swim, as part of the Queens birthday celebrations this weekend, whilst raising money for local cancer charity The Haven in Hereford.
He was joined by Ian Peake, Principal of Herefordshire and Ludlow College, Richard Heatly, former Principal of Hereford College of Art, and Frankie Devereux, Fund-raising manager at The Haven, the Chairman's nominated charity. The group previously swam 60 lengths for charity in celebration of the Queens Diamond Jubilee in 2012.
Wye Leisure of Fownhope provided exclusive use of one of their pools for all of them to swim 90 lengths in recognition of the Queen's 90thbirthday. Recovering from the mile-long swim, Brian said,
"That is the longest swim I have done since I was a teenager. It's great that several sponsors increased their contribution because of the distance, giving me the extra incentive to do the full 90 lengths and to complete it within an hour. I am very grateful to all that have been so kind as to sponsor me"
When all donations are collected it is expected that together they will have raised around £3,000 for The Haven.
To find out more about the Haven charity and how you can get involved, please visit: www.breastcancerhaven.org.uk/hereford