Gorsley Goffs Primary School thanks 'Liz' for her 25 years of service
Elizabeth 'Liz' Fishpool started work as school crossing patrol officer for Gorsley Goffs Primary School in 1996, and has been a mainstay ever since.
After a quarter of a century, Liz has decided to enjoy her well-earned retirement as of the end of this school term, and Gorsley Goffs held a special assembly last week (Wednesday 15 December) to acknowledge her work in getting children and parents to and from school safely. She was presented with a 25 year service badge and a bunch of flowers.
Liz works on a busy crossing but she has been there without fail, rain or shine, week in and week out. Liz has also volunteered at the school for a number of years, whether it be helping the children in the classroom, keeping staff supplied with milk, tea and coffee, or helping to keep the school entrance safe by putting out parking pals, the child-like signs used to encourage parents to park considerately.
Liz said: "Gorsley Goffs School has been a big part of my life for many years. I will miss everyone greatly, but will certainly keep in touch."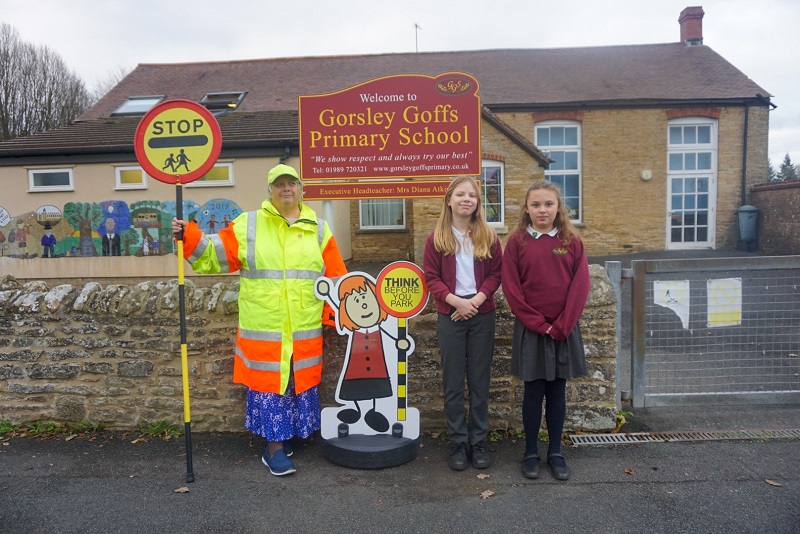 Cllr Ange Tyler, Cabinet member for Housing, regulatory services and community safety, said:

"Liz has been an incredibly popular figure at Gorsley Goffs over the years, and is always inundated with flowers and gifts, along with grateful thanks from children and parents. 25 years of service is a huge achievement, and we are delighted to help recognise Liz's valuable contribution to keeping children safe, and wish her a wonderful retirement.

"People who work as Crossing Patrol Officers are incredible individuals, who work tirelessly and in often very challenging conditions to help children and parents walk to and from school safely. As well as Liz, I would also like to offer a huge thank you to everybody who helps to deliver this priceless work."
Diana Atkinson, Head Teacher at Gorsley Goffs, said: "Liz will be deeply missed by all the children and their families. She is so caring to everyone and does a sterling job on the crossing every single school day, particularly as it is a fast and dangerous road!

"She goes far beyond her official duties and will doing anything to support the staff in school too. Gorsley Goffs will not be the same without Mrs Fishpool but we wish her well as she relaxes and enjoys her retirement."