The new Shell Store today (10 September) hosted the first in a series of events across the county to bring people and organisations together to discuss the big projects, changes and partnerships required to transform Herefordshire's economy. 
More than 50 business leaders joined Leader of Herefordshire Council Cllr David Hitchiner, the new Chief Executive of the council Paul Walker, and Jesse Norman MP, to hear talks and discuss the future of business in the county.
Topics included Herefordshire's 2050 Big Plan, which sets out how the county can think big to drive change and meet opportunities, building new relationships with businesses to deliver growth, and the role of government and its supporting policies.
Cllr Hitchiner, Leader of the Council, said: "Herefordshire businesses, like others the world over, have been hit hard by the pandemic and recent climate change related events. Change is required to adapt and respond to these and other challenges.

"The Council has a huge supporting role to play in providing leadership, long-term strategy, and supporting infrastructure to help the county rise to these challenges. Today's business summit is just the start of the council working closer with businesses, and we look forward to continuing our economic recovery together."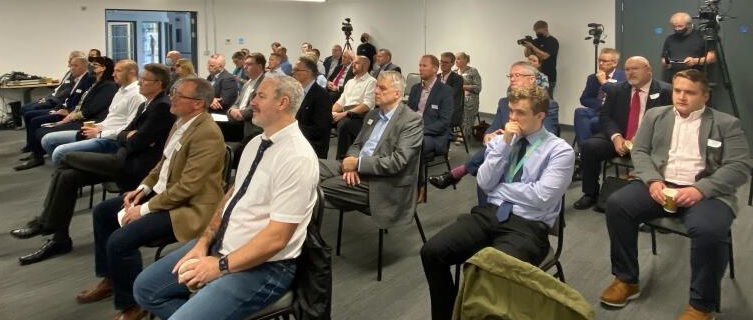 As well as the chance to network with colleagues and partners, participants had the opportunity to explore the brand new Shell Store business incubation centre and visit the Cyber Quarter, also located on the Enterprise Zone.
These projects, one a refurbishment of a World War 1 building into a facility to nurture new and growing businesses, the other a new build cyber research and development centre are examples of the partnerships required to encourage private sector investment and growth.
Chief Executive of Herefordshire Council, Paul Walker said: "We're confident that today set the tone for a new conversation and way of working with businesses to bring our aspirations, plans and vision together. We will be developing a Big Plan and City Masterplan, covering the period to 2050, to set out the county's economic direction. These plans must be realistic and business focused, so it is vital that we work collaboratively with a broad range of businesses across the county."