Widemarsh Children's Centre is set to benefit from reduced carbon emissions thanks to new solar panels and LED lighting – just one element of Herefordshire Council's campaign to get the county to carbon zero by 2030.
The Children's Centre in Hereford, is home to multiple partners and providers in delivering a menu of services for families 0-5 years and offering core services to support family's needs up until children start school. There is also a community café on site.
The 210 new solar panels will generate 55,478 kWh per year and the installation of LED lighting and controls will save over 6,000 kWh/yr. Combined they will deliver a carbon reduction of just over 21.6 tonnes of CO2e every year - this is equivalent to 9,544,893 smartphones being charged.*
The installation cost of £60,597 was match funded by a 50% grant from the Sustainable Energy in Public Buildings programme, which is a European Regional Development Fund (ERDF) grant scheme for innovative low carbon measures in public buildings across the Marches.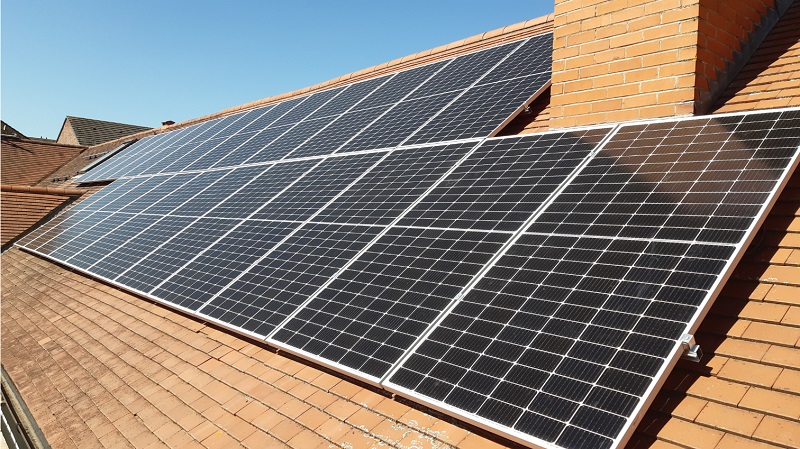 With projected savings to the council of £8,194 every year, this means the installation will repay the council funding within four years.
Cllr Ellie Chowns, Cabinet member for Environment and Economy, said: "We have in place a network of solar installations on council property across the county, with more being planned, and they make a vital contribution to reducing CO2 emissions and providing clean, efficient energy. The latest Greenhouse Gas Report (2020/21) shows that Herefordshire Council has delivered a 59.6% reduction in CO2 emissions compared to the 2008/09 baseline.

"The installation of solar panels is just one of the ways we are working as an organisation to reduce our carbon footprint. We are also looking for people from a wide variety of backgrounds to join our new Herefordshire Climate and Nature Partnership Board, working together to steer and oversee the implementation of Herefordshire's Climate and Nature Action Plans."
To register your interest in getting involved with the Partnership Board, please visit www.herefordshire.gov.uk/applyhcnp
All applications must be submitted by 5pm on Thursday 16 September 2021.
To find out more about the Climate and Nature Action Plan, and for some ideas for how you can look to reduce your own carbon footprint please see visit the website.
*https://www.epa.gov/energy/greenhouse-gas-equivalencies-calculator