Hereford's looking up, with new bee-friendly bus shelters
When you're next out and about, you may notice that three 'green' bus shelters with living plants on the roofs have been installed at the Red Barn Drive stop on Yazor Road, and the Memorial and Victoria bus stops on Whitecross Road.
The roofs are planted with 16 different varieties of Sedum plants, which are known to have many benefits for the environment. As plants they help absorb CO2 and release oxygen, while their flowers are also great for bees providing a haven and a welcome food source for many different pollinators along the urban roadsides.
The sedum plants can also filter fine dust particles and so help to purify air, cutting pollution levels and they can help to capture rain water - all while bringing a little bit of nature into the City.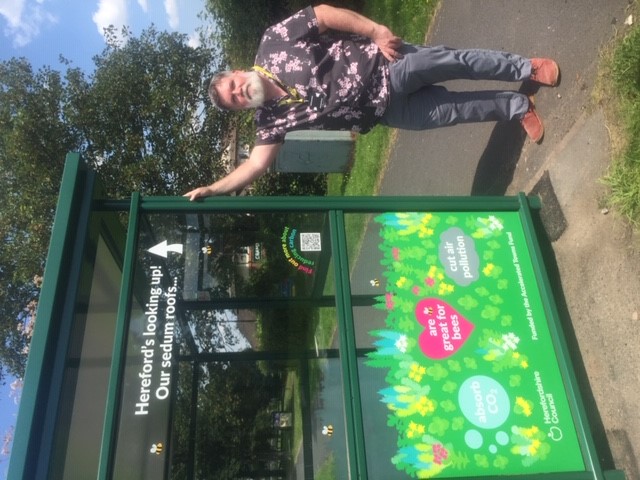 Cllr John Harrington, Cabinet member for Infrastructure and Transport, said: "It's marvellous to see the new sedum bus shelters in situ. They contribute to our efforts to tackle the Climate & Ecological emergency by absorbing CO2 and cutting air pollution, they're great for bees and other pollinating insects – and with their blend of plants, they look great, too.

"We funded the shelters through the 'greening the city' strand of the Accelerated Towns Fund monies, and have identified shelters in prominent places that needed replacing. I'd like to thank Externiture for making this possible. They have installed quality shelters and been flexible enough to deliver the project on schedule despite several obstacles, none of which were of their making."
Read more about the Externiture City Haven shelters and their benefits at externiture.com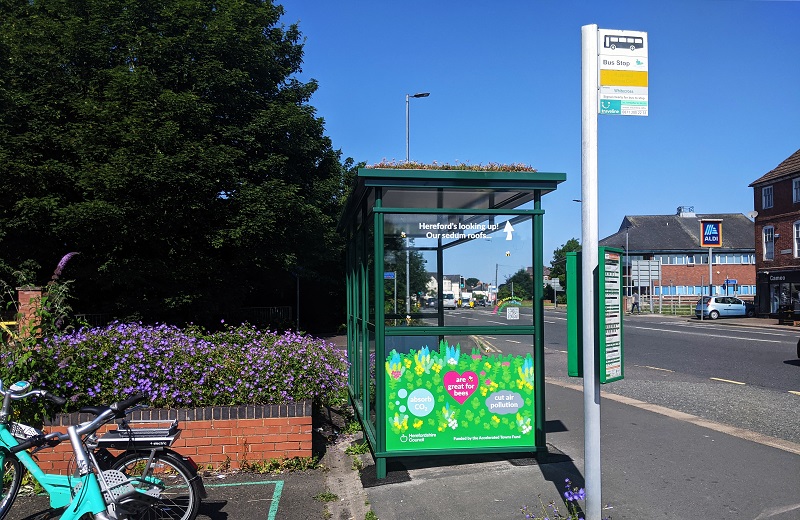 Herefordshire Council is also running a Bus Service Improvement Survey from Friday 16 July to Sunday 15 August.
"We need your views to help shape our Bus Service Improvement Plan, and therefore the future of safe, healthy transport that reflects the needs of local people," Cllr Harrington added. "We're looking for feedback from people who currently use buses, and those who don't, so I'd encourage everybody to take a few minutes to complete the survey."
To access the consultation, please visit www.herefordshire.gov.uk/bus-survey