Actor Ross Kemp officially opens new housing for military veterans
A military veteran housing scheme has been officially opened today by the well-known actor, author, presenter and investigative journalist, Ross Kemp, on behalf of The Buchanan Trust.
During the opening ceremony, Ross, a long-term supporter of the Armed Forces community, assisted in cutting the ribbon for the four new Almshouse cottages that have been built specifically to help ex-service personnel make a successful return to civilian life.
Ross Kemp said: "It's a great achievement for The Buchanan Trust to have built these stunning cottages during lockdown and it's a pleasure to be here today to officially open these new homes for our veterans."

"Robert Buchanan formed the Trust over 100 years ago and I wonder if he was looking down today would he wonder why there is still a need to provide housing for our veterans and what he would think about the fact that organisations still need to come together to offer this support to our ex service personnel."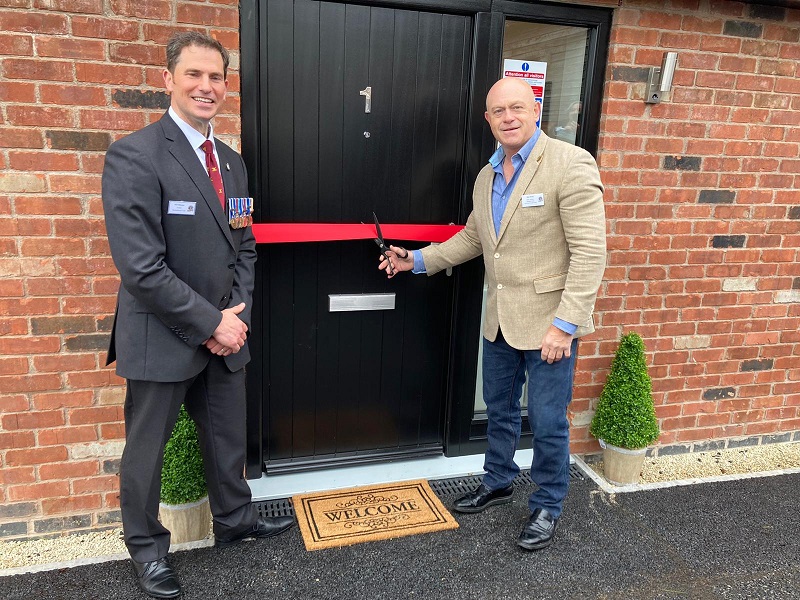 Funding from both Herefordshire Council and Homes England through the Almshouse Consortium has enabled The Buchanan Trust housing scheme to go ahead and has seen the construction of four properties on the rural 700 acre Bosbury Estate in Herefordshire.
The Buchanan Trust is a not-for-profit charity set up to support ex-military personnel in 1918 in memory of Alan Buchanan who fell in the First World War. Run by a board of voluntary trustees, the Trust still continues to this day with its vital work in supporting veterans with their transition from military to civilian life.
The Trust provides temporary residential accommodation for up to 40 former service men and women and their families, to help them readjust after their time in the forces has come to an end. In addition to housing, the veterans are also provided with access to work experience, accredited training skills and employment opportunities in the rural and construction sectors.
Councillor Barry Durkin, Herefordshire Council's representative for the Armed Forces, said: "We are delighted to provide funding for these four new properties and also providing assistance and support for the important work of The Buchanan Trust in supporting military veterans and their families as they re-integrate into the local community."
Robert Buchanan, trustee and direct descendant of the original benefactor, added: "It's remarkable that the trust today, supports our Armed Forces community as it was first intended back in 1918 when it first started. The military has evolved over that time but the need to help those who have served our country still remains, so it is important we continue to raise awareness."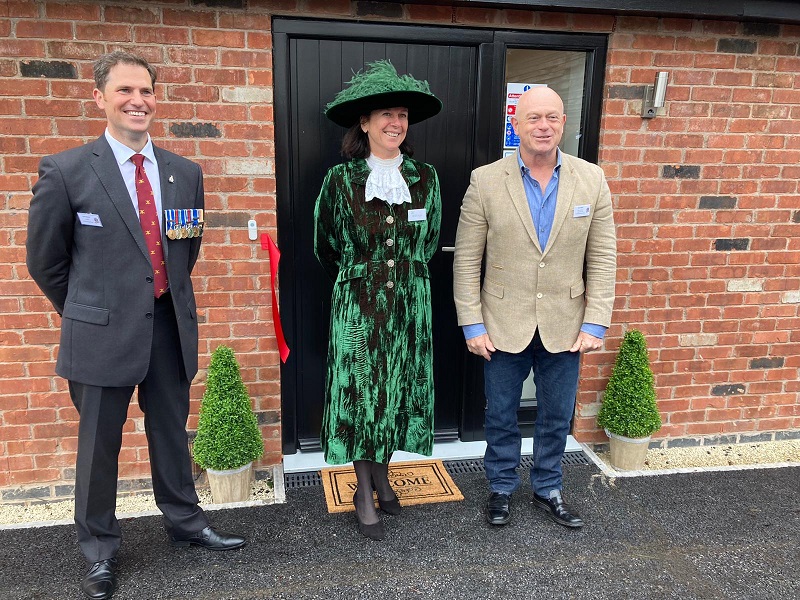 General Sir Adrian Bradshaw KCB OBE, Patron of The Buchanan Trust, said: "Since the end of the First World War a century ago The Buchanan Trust has been supporting former soldiers, sailors and airmen with homes, training and work experience to enable them to start new lives, mainly in agriculture and rural jobs, after leaving the Armed Services. These four new cottages will provide fitting homes to add to our community of military veterans at Bosbury who are being helped by the Trust, and who support each other, in their transition to civilian life. Should you wish to help the Trust, or simply wish to know more about us, look us up at www.buchanan-trust.org.uk or contact us on 07342 874385."
Sue Missin, Housing Development Manager, Saffer Cooper Consultancy, said: "The delivery of the latest development from The Buchanan Trust is very welcome. The Trustees have worked hard over a number of years with Herefordshire Council, Homes England and others to ensure that these crucial additional residential properties are delivered."