Exhibition showing detailed map of the county from 1610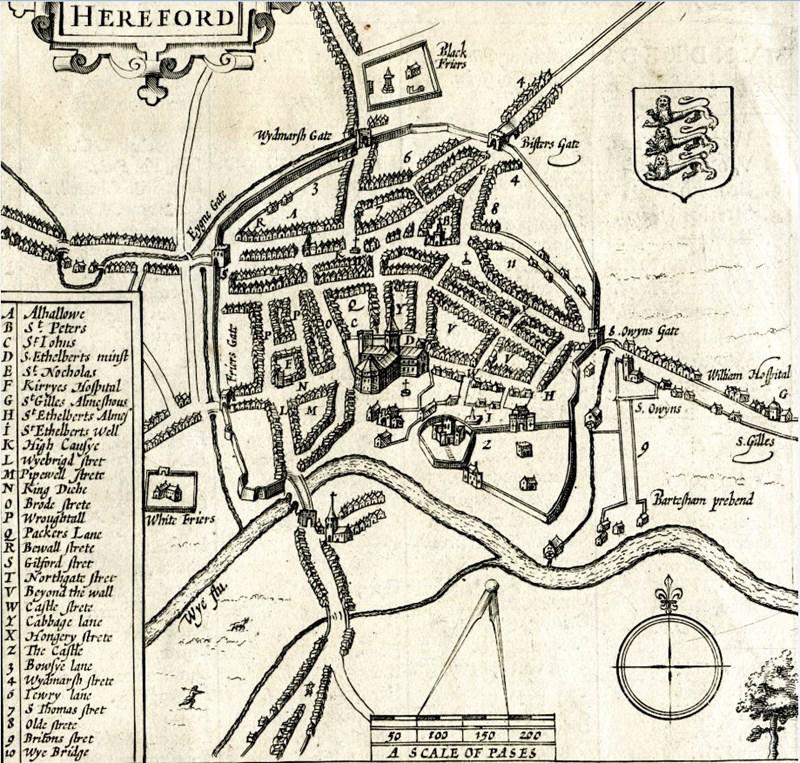 One of the most evocative and intriguing documents held at Herefordshire Archive and Records Centre is John Speed's 1610 map of our county. The map includes a tiny but detailed plan of the city of Hereford set in the top right hand corner.
A new exhibition at Herefordshire archive and resource centre (HARC) celebrates Speed's bird's eye view of the city and the rare insight it gives us into the geography and organisation of Shakespearean Hereford.
Other archive material relating to the buildings shown on the map are also featured in the display. These add an extra dimension to the image passed to us by Speed. They include an account book of the parish of St Nicholas, which records a payment for the first Guy Fawkes day celebration in 1606.
Chief Archivist Elizabeth Semper O'Keefe said:
'Speed's map is so remarkable because it provides a mixture of the familiar and the forgotten."

"So we have the on the one hand the Cathedral and on the other St Owen's Church that was destroyed in the Civil War. It is a snapshot of a city almost on the eve of violent change.'
The free exhibition, which runs until 2 September, features a three dimensional model of Speed's map and an opportunity to test your knowledge of the Jacobean A-Z of Hereford.
HARC is located at Fir Tree Lane, Hereford HR2 6LA.
Published: Monday, 18th July 2016