On 18 September 2020 at Hereford Magistrates Court, Mrs Pearl Smith (51) of Oak Crescent, Clehonger pleaded guilty of failing to transfer her waste to an authorised person and secure the transfer with a written description of the waste.
In the case taken by Herefordshire Council's Community Protection Team, Mrs Smith received a fine of £320, victim surcharge of £32 and a contribution towards costs of £150.
In this case, six household bags full of waste and a shopping trolley were found dumped in Newton brook which runs along Waterfield Road in Hereford in March 2019.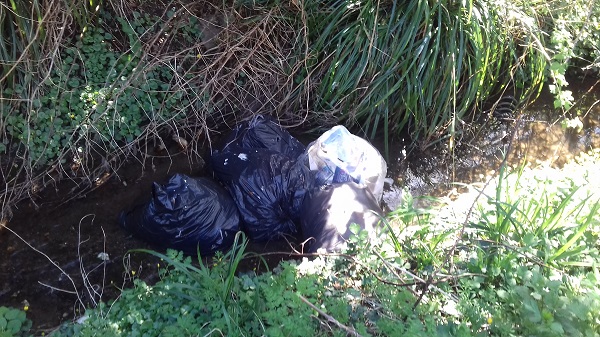 Evidence found in the bags led officers to Ms Smith who failed to co-operate with the investigation and provide an account of how her waste became fly tipped. At the hearing, Smith accepted that she had failed to transfer the waste to an authorised person and had therefore failed in her Duty of Care.
David Hough, Herefordshire Council's Trading Standards Service Manager, said: "Everyone has a legal duty of care to make sure their waste is disposed of correctly. This case shows you can be prosecuted even if your waste is fly tipped by someone else on your behalf. We would advise residents to always use a registered waste carrier and to never use the services of cold callers and social media tip run adverts which offer to remove waste for cash.

"The Community Protection Team will investigate fly tipping and anyone seeing a fly tip should report it via the council website or by phoning 01432 261761."
For further information visit www.herefordshire.gov.uk/recycling-and-waste