The Earl heard about the council's response to flooding and Covid-19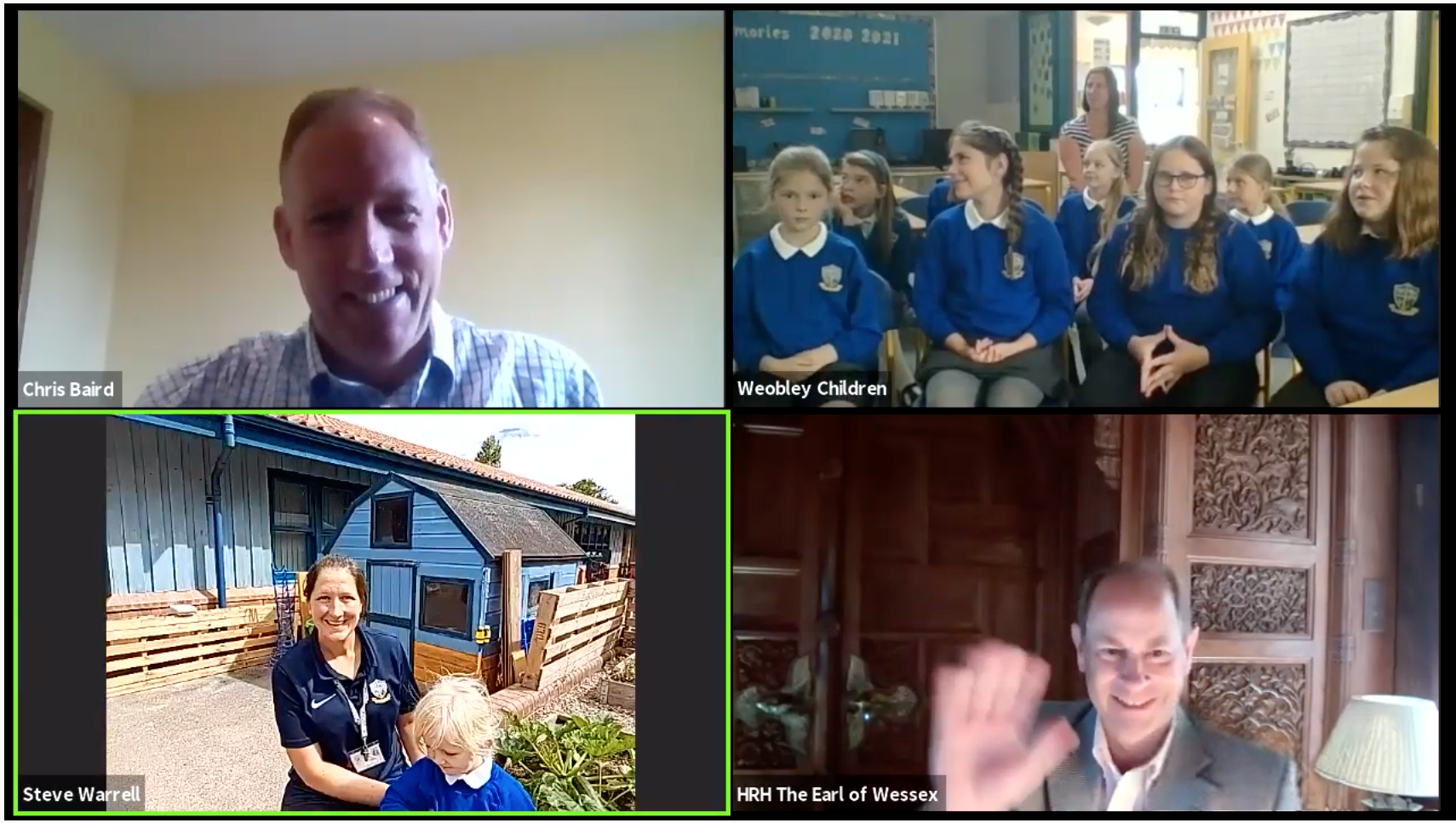 Screenshot of HRH The Earl of Wessex waving to Weobley school children and Director of Children and Families on video conference
Herefordshire Council was delighted to be joined by His Royal Highness The Earl of Wessex for his first ever virtual Royal Visit on Wednesday 22 July.
The visit was hosted by Her Majesty's Lord Lieutenant of Herefordshire, The Dowager Countess of Darnley. The Earl was keen to hear about the experiences of children, adults and communities and hard work of schools, services and Herefordshire Council staff, partners and volunteers who have provided support during the Covid-19 pandemic and local flooding events.
There have been many unexpected changes to teaching and delivering services over the first half of the year. The Earl learned about the impact of these changes on children, young people and adults, and staff. The Earl also heard about the strong and resilient relationships between the council, schools, partners and volunteers.
The Earl met with staff who have supported vulnerable children and young people through the pandemic, two head teachers shared how their schools have adapted. He met with children from Weobley School and listened to poems they had written about their lockdown experiences. Mariam Njeri, a young person with care experience, read her poignant poem about life under lockdown.
Chris Baird, Director of Children and Families said:
"It was an honour to welcome His Royal Highness to Herefordshire and to showcase how children and young people in Herefordshire have responded and the fantastic work that has continued by the staff in the county during a very difficult time. To show how we were able to adapt but continue our support, especially to our most vulnerable children and young people is a testament to the county's commitment to them all."
The Earl was then introduced to the adults and communities services and heard about Talk Community which has provided support to the most vulnerable during lockdown. Wendy Carter shared her experiences of volunteering as a 'shield buddy' during lockdown, which provided extra support for clinically vulnerable people . He then met partners from HVOSS, Vennture and other community leaders who have worked with the council to provide ongoing support to vulnerable people.
Stephen Vickers, Director of Adults and Communities said:
"It was a great opportunity for our staff, partners and volunteers to explain to His Royal Highness the difficulties faced in Herefordshire over the last six months due to the flooding and pandemic. But it was also fantastic to highlight the partnership working between agencies and amazing people in Herefordshire who stepped up to volunteer."