Fire damaged property to be refurbished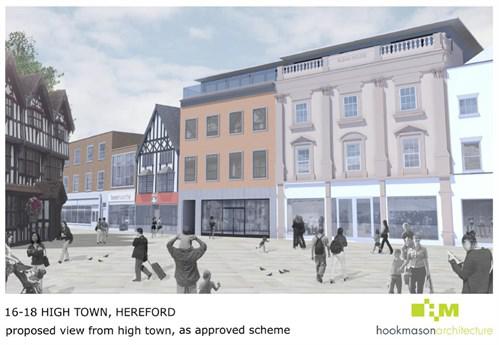 Herefordshire Council has granted planning permission to Omaha Guernsey LP for the refurbishment of 16-18 High Town and 12 East Street, following an application recently made on 18 May by local architects Hook Mason.
The planning application proposed alterations and extensions to form two ground floor retail units and 12 residential units following major fire damage in 2010. There will also be 7 residential apartments built facing East Street and a single dwelling building at 12 East Street.
As the buildings are listed, the consent balances the protection of the heritage of these buildings with the necessity to reopen this part of High Town, given the long period of time that the deteriorating structure had been exposed to the elements. Where at all possible, great effort has therefore been taken to retain original features, salvaging and reusing them in the new structure.
Councillor Price, cabinet member infrastructure, said: "Our officers have worked incredibly hard with the local architects to get an application approved that serves to get both these buildings back in use as soon as we can, yet retain as much of their original heritage features as possible. Now that the application has the green light, I hope to see the buildings redeveloped and the footpath to the Booth Hall opened, to restore the appearance and assist with the prosperity of High Town's commercial centre".
The full applications for both the redevelopment and the listed buildings can be found online together with the decision notices which condition its rebuild.
Published: Wednesday, 27th July 2016