The First Shell exhibition extended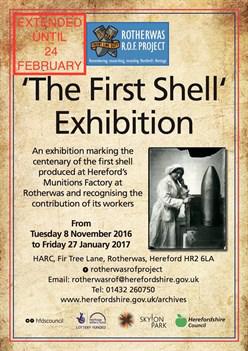 A Herefordshire exhibition has extended its run until Friday 24 February 2017 due to popular demand.
'The First Shell' exhibition, presented in partnership with Rotherwas Ordnance Factory (ROF) - Front Line Duty Project and Herefordshire Council, marks the centenary of the first shell produced at Hereford's munitions factory in Rotherwas.
The Rotherwas ROF project is part of a two-year Heritage Lottery Fund project marking the contribution of the munitions workers during the First and Second World Wars, most of whom were women. Visitors are also encouraged to bring names, stories, letters and photos of people they know of who worked at the munitions factory at Rotherwas.
'The First Shell' exhibition, held at Herefordshire Archive and Records Centre (HARC) in Rotherwas, is open Tuesday to Friday 9.15am - 4.45pm, and Saturday 11 February. Visitors will also have access to the family history search room during the exhibition.
Published: Thursday, 2nd February 2017