Making it Real
David Price Award 2018
Making it Real is inviting nominations for the David Price Award 2018. This award recognises a person who has, in an unpaid capacity, helped change the lives of a Herefordshire adult or adults for the better. Download more information and a nomination form.
Making it Real Board
In 2013, we set up a Making it Real Board in Herefordshire. Since then, the Board members, who are carers and people who use services, have been working together to improve the availability of good quality information for people and help them understand how they can take more control of their care and support.
Open meetings
The Board, which is made up of carers and people who use services, now wants to encourage involvement from a wider range of people and is inviting services users and their carers (including personal assistants) to come to the Making it Real open meetings.
Dates
All meetings are held at Council Offices, Plough Lane, Hereford 10.30am to 1pm.
Wednesday 31 January 2018
Wednesday 28 March 2018
Wednesday 9 May 2018
Wednesday 18 July 2018
Wednesday 26 September 2018
Wednesday 21 November 2018
Let us know you're coming
Please let us know if you are coming, so we can make sure we have enough space and refreshments.
If you would like to attend please contact Sylvia Nicholls:
Email: sylvia.nicholls@btinternet.com
Telephone: 07817 473813
For more information about Making It Real, please visit the national Making It Real website.
David Price Awards 2017
David Price was a service user and member of the Making it Real board, and his wife Christine presented the award on behalf of the board to Kathryn McShane. Maggie O'Neill had nominated her personal assistant, Kathryn, for her outstanding commitment and care.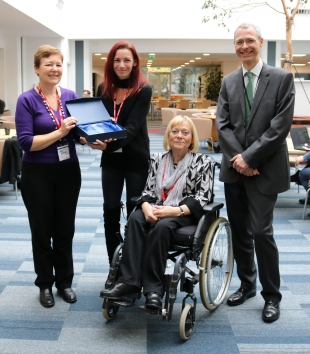 Pictured left to right: Christine Price, Kathryn McShane, Maggie O'Neill and Martin Samuels (Herefordshire Council Director for Adults & Wellbeing).