Great Herefordshire Spring Clean

Over 50 community litter picks took place during the Great Herefordshire Spring Clean collecting over 850 bags of litter. A fantastic achievement!
Spring Clean competition winners
Two community litter pickers were this week presented with prizes for submitting old or unusual items of litter, discovered while cleaning up their local environment.
The Great Herefordshire Spring Clean ran from 22 March – 23 April, as part of the Great British Spring Clean, and was a huge success, with over 60 litter picks carried out by parish councils or community groups, and over 825 bags of litter collected.
During the Spring Clean, we encouraged volunteers to share their litter picking stories, and submit nominations with the hope of winning in one of two categories: oldest piece of litter found; and most unusual piece of litter found. The winners were presented with £25 vouchers to a local retailer of their choice.
Winner - most unusual piece of litter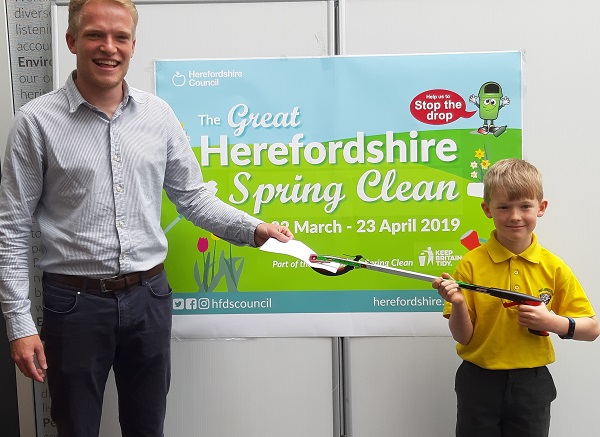 Zeb Swan, 8 years old, from Wellington, found an intriguing pair of plastic handcuffs.
Winner - oldest piece of litter found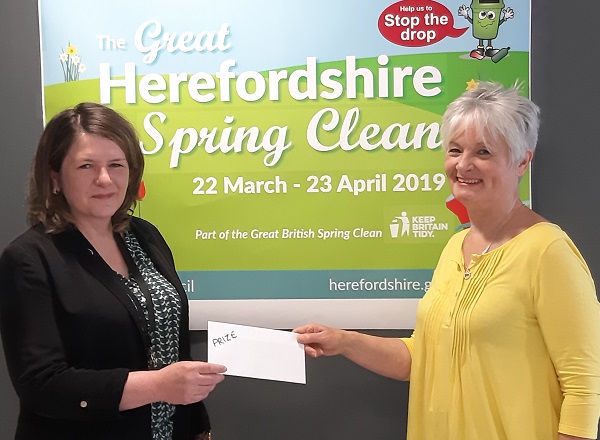 Wendy Salter, of the Ross Community Clean-up group, submitted a For Sale sign which is at least a quarter of a century old, dated by the old telephone code.
You can read more about the competition and the winners in our news release Spring Clean competition winners announced.