Herefordshire History digital project
Herefordshire History is a project run by Herefordshire libraries to digitise unique local material from Herefordshire's libraries, archives and museum collections with support from the Heritage Lottery Fund. Items will be brought together for the first time in a searchable online database which will make this material available to everyone and preserve it for future generations.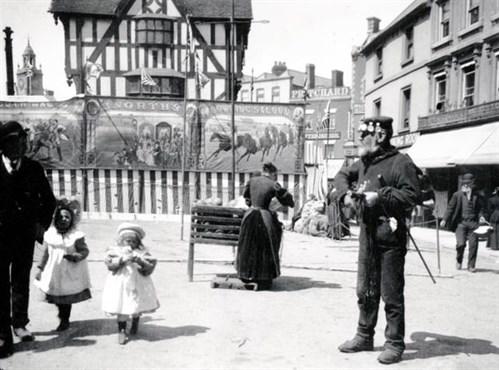 Hereford May Fair c1895
Initially the project is concentrating on local newspapers from the First World War; many are held as hard copies only and are too fragile for public use. The Hereford Times, Hereford Journal, Ross Gazette, Leominster News, Ledbury Guardian and Kington Reporter from the years 1914 to 1919, where available, will be the first newspapers digitised. Other years will be made available in the future. Other items that will be made available online include burial records, historic maps, postcards and letters.
Herefordshire libraries' extensive photograph collection of local people, events and places is currently being scanned by a dedicated team of volunteers for inclusion and will also be made available online. Images from archives and other collections will follow.
Anybody interested in fundraising or volunteering opportunities available to support the Herefordshire History project should contact us at:
Keep up to date with the latest information and like and follow the Herefordshire History facebook page
This project would not be possible without the support of the following organisations: