Ross Enterprise Park
Ross Enterprise Park is a new enterprise park on the edge of Ross-on-Wye, providing excellent access to Midlands, South West and Welsh markets and supply chains. Ross Enterprise Park is an important project within the council's Economic Vision. The 15 hectare site will provide up to 29,400 square meters of new commercial floorspace and 1,000 new jobs when fully built out.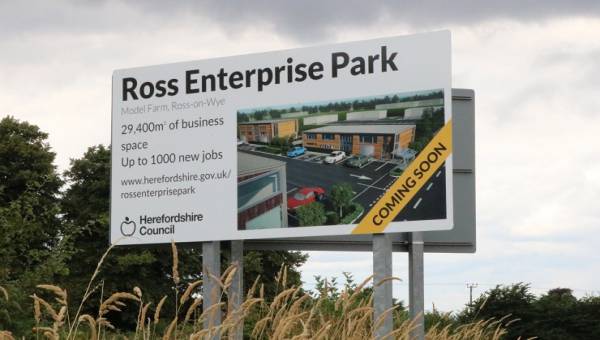 Photo of Ross Enterprise Park sign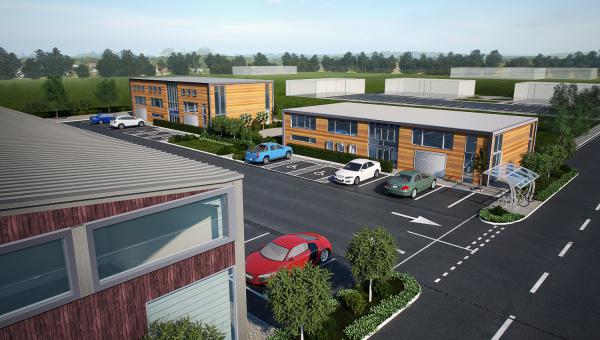 Computer generated image of Ross Enterprise Park, taken from Herefordshire Council's Economic Vision Pitchbook
Key benefits to investors include:
Fully serviced land for business developments, which will be available to purchase from early 2019
Leasehold premises to meet a broad range of requirements
A wide range of occupiers can be accommodated, including those that complement the thriving agri-tech and food, advanced manufacturing and new building technology
Excellent road network links that include immediate access to the M50, which links to the M5 (Midland and South West) and A449 dual carriageway which links to the nearby M4 corridor (South West and South Wales)
Bristol and Cardiff and their respective airports are less than an hour away and Birmingham, including its International Airport is less than 1 hour 15 minutes away. The regional centres of Hereford, Gloucester, Worcester and Cheltenham are all less than 40 minutes away
Ross-on-Wye is a market town that offers a high quality of life and provides access to a wider surrounding rural area, contributing to making Ross Enterprise Park the ideal place to invest, grow and flourish
Over 500 new homes will be developed over the next few years at sites near to Ross Enterprise Park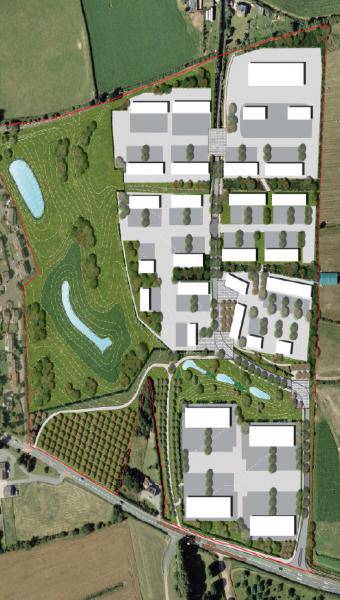 Indicative site layout for Ross Enterprise Park (subject to change)
Contact us
If you are interested in investing on Ross Enterprise Park, please call Herefordshire Council's Economic Development team on 01432 261758 or email business@herefordshire.gov.uk
Location
The 15 hectare site is positioned to the east of Ross-on-Wye in the Hildersley area, next to excellent road links, including immediate access to the M50 and the A449 which links to the nearby M4 corridor.