Grayson Perry: The Vanity of Small Differences
Hereford Museum and Art Gallery - 9 October to 18 December 2021
The exhibition of six large scale tapestries by the Turner-Prize winning artist, Grayson Perry, explores the British fascination with taste and class.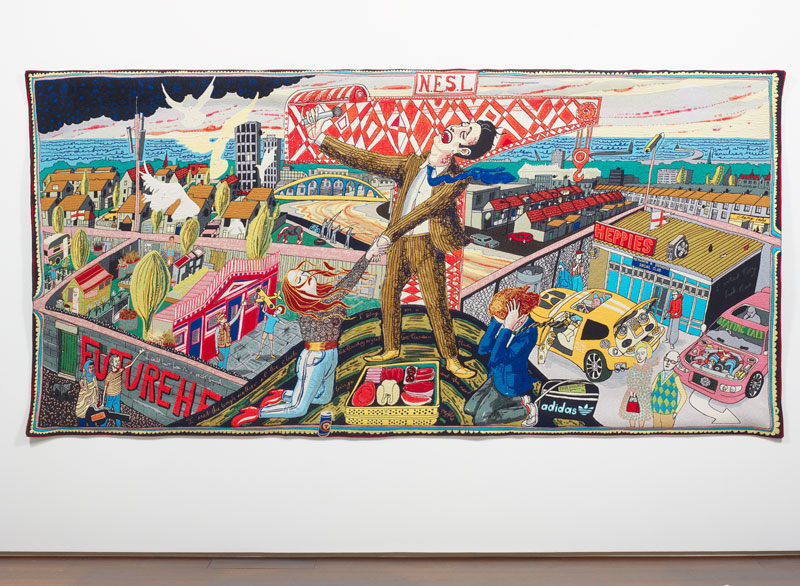 The Agony in the Car Park - Grayson Perry. See credits below.
The Vanity of Small Differences tells the story of class mobility and the influence social class has on our aesthetic taste. Inspired by William Hogarth's A Rake's Progress the six tapestries, measuring 2m x 4m each, chart the 'class journey' made by young Tim Rakewell. They include many of the characters, incidents and objects Grayson Perry encountered on journeys through Sunderland, Tunbridge Wells and The Cotswolds for the television series 'All in the Best Possible Taste with Grayson Perry'.
Find out more about the exhibition and view more tapestries on the Arts Council Collection website
Herefordshire community art project - The Vanity of Small Differences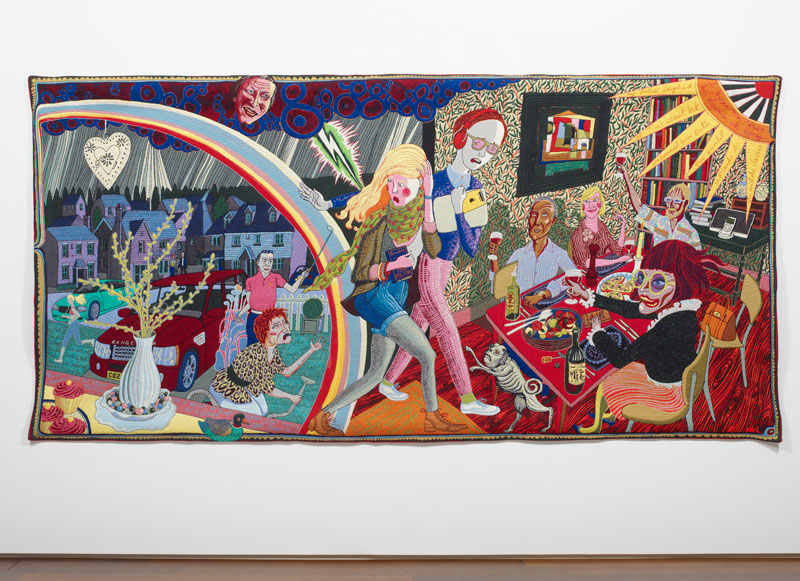 The Expulsion from 8 Eden Close, Grayson Perry. See credits below.
Get inspired
This is your opportunity to take inspiration from Grayson Perry's exhibition and create your own work of art - a tapestry, textile or collage in any media, with a narrative - although not on the same scale!
We would like to display some of your works of art in the Museum at the same time as 'The Vanity of Small Differences' exhibition, from 9 October to 19 December 2021.
We will also create a digital gallery of your works, or of you working on your creations, which we can upload anytime. Email your image to Julia jradburn2@herefordshire.gov.uk Please include up to 60 words about the piece and your consent for it to be used on the website or in the exhibition.
You have the next seven months to create something fabulous!
Submissions deadline
If you would like to submit your work to show in the museum during the exhibition please email Julia jradburn2@herefordshire.gov.uk by 4 September 2021.
Any enquiries or for further information please contact Julia jradburn2@herefordshire.gov.uk
Image credits and exhibition sponsors: Arts Council Collection, Southbank Centre, London and British Council. Gift of the artist and Victoria Miro Gallery with the support of Channel 4 Television, the Art Fund and Sfumato Foundation with additional support from Alix Partners.