Stay well, stay warm
Staying warm this winter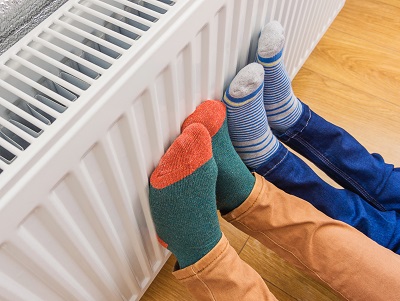 Even when temperatures don't seem extreme, cold weather can make you more vulnerable to some illnesses, so it's vital that you stay warm during the cold winter months.
Follow these tips to keep yourself and your family safe and warm:
Ensure your house is heated to at least 18 degrees, especially in rooms you regularly use such as your living room or bedroom, particularly if you have a health condition. If you are struggling with heating costs get advice and money saving tips from Keep Herefordshire Warm. You can also check you are receiving the help you are eligible for on our financial help to heat your home page
Wear warm clothes both inside and outside of the home, several lighter layers are better than just a single heavy one
Have at least one hot meal a day - eating regularly helps keep you warm and make sure you have hot drinks regularly. For example, soup is a nutritious meal, keeps you warm and is inexpensive to make or buy
Stay active and try not to sit still for more than an hour or so indoors
Use a hot water bottle or electric blanket to keep warm in bed - but don't use both at the same time
Order repeat prescriptions in plenty of time, particularly if bad weather is forecast. Ask your local pharmacy if it offers a prescription pick-up and delivery service
Stock up on cold and flu remedies for your home
Keep extra food items in the cupboard or freezer in case it's too cold to go shopping. You could do your food shopping online and get it delivered to your door.
Check your heating and cooking appliances are safe. Contact a Gas Safe registered engineer to make sure they're working properly. You can find an engineer from the Gas Safe Register website.
Make sure your home is fire safe. For fire safety advice specific to you and your home, visit the online home fire safety check website to complete a safety check for your home.
Make sure you're getting all the help that you're entitled to. There are grants, benefits and advice available to make your home more energy efficient, improve your heating or help with bills.
The how to stay well in winter page on the NHS website has many useful suggestions on how to keep warm during this weather, including more information on keeping your home warm, help with heating costs and protecting your health.
Check on others
Check on elderly and vulnerable relatives and neighbours to make sure they:
Are safe and well
Are warm enough, especially at night
Have stocks of food and medicines so they don't need to go out during very cold weather
There may also be schemes providing extra help locally to those who might need it in winter, ask your parish clerk or go to your community website, if there is one, for details.
If you're worried about an elderly relative or neighbour, call the Age UK helpline on 0800 6781602 (8am to 7pm every day) or contact adult social care.
Keep Herefordshire Warm scheme
It is vital that people can afford to stay warm and healthy in their own homes. By phoning 0800 6771432, a team of trained energy advisors at Keep Herefordshire Warm can offer free energy efficiency advice that will help you stay warm and save money on your bills.
The advice ranges from simple changes you can make, to helping you access grants for insulation or heating. They may be able to help you reduce your energy bills, switch to a cheaper energy tariff or supplier, or offer you a free home visit to advise you on ways to save energy.
The service has been providing free home energy advice since 2001, and covers all homes in Herefordshire. For information or advice, talk to a friendly energy advisor on 0800 6771432, or visit Keep Herefordshire Warm.
Weather updates
Listen to local radio and TV weather bulletins during winter to keep up-to-date with the weather.
As well as weather forecasts and severe weather warnings, the Met Office website also provides practical advice on how best to prepare for winter weather.
Boost your immunity this festive season with the flu vaccine and Covid-19 booster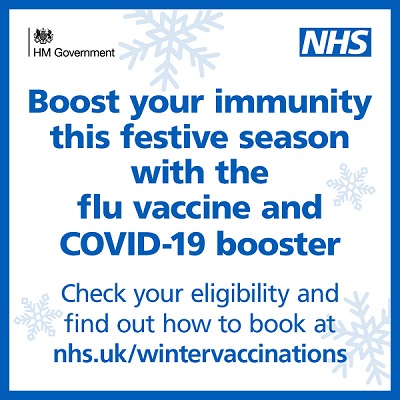 It is important to look after yourself during winter as cold weather and winter conditions, such as flu, can be seriously bad for your health.
If you're eligible for the free flu vaccine, it's likely you can get the coronavirus (Covid-19) seasonal booster.
Getting both vaccines is important because:
More people are likely to get flu this winter
You're more likely to be seriously ill if you get flu and Covid-19 at the same time
It's safe to have both vaccines at the same time, but you need to book them separately.
If you're eligible for either vaccine, you do not need to wait to be contacted to get vaccinated.