An exhibition of paintings by Mary Rennell and Richard Gilbert and photographs by Brian Griffiths, celebrating the panorama of the Marches from Stonewall Hill near Presteigne
Times to be confirmed. Exhibition dates may change at short notice. Please check this website before visiting.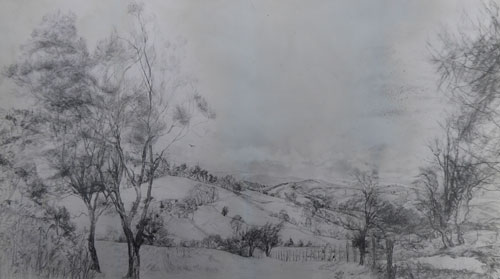 Featuring 'Round the Year from Stonewall Hill' (also known as 'Four Seasons on the Welsh Border') by Mary Rennell (1901 to 1981). Twelve drawings in Chinese ink on rice paper (each 153 x 69 cm). All produced over a year from November 1967 to October 1968 from the back seat of her Mini. Exhibited in 1970 at The National Library of Wales, Aberystwyth, which then purchased the 12 panels. Now after 50 years they are emerging from storage to make their long overdue debut in the county of their creation. Mary Rennell lived at Rodd Court near Presteigne and loved depicting the Welsh Marches - its trees, landscape and old settlements. In these 12 panels, her magnum opus, she merges the techniques and potency of Chinese painting with her beloved borderland as subject.
The exhibition includes contemporary responses to Stonewall Hill and to Mary Rennell's depictions of it by two Herefordshire residents: painter Richard Gilbert and photographer Brian Griffiths. Both have produced bold detailed works over a year from extensive walks immersing themselves in, and exploring the wider region that is 'Stonewall Hill.'
Curated by Hugh Fowler-Wright.