Covid-19 vaccinations for Herefordshire residents
Every person aged 16+ is now eligible for an injection.
Book online using the NHS Covid-19 vaccination booking page or call 119.
Alternatively, walk-in clinics are available in Hereford, please check our grab a jab page for the latest availability.
Children aged 12-15 can also have one vaccination through their schools. Parents and carers will be provided with information on when this service is available.
You may also receive a text from 'NHSvaccine' inviting you to book your vaccination appointments at a larger vaccination centre or pharmacy. This will be followed up by a letter a few days later.
If you receive a text from 'NHSvaccine' inviting you to book and you're not sure if it is genuine, you can wait to receive your letter
Texts from 'NHSvaccine' are separate to any invites you may get from NHS Herefordshire and Worcestershire through your GP or the hospital
If you're invited to book a vaccination at a NHS Herefordshire and Worcestershire service, you'll usually get a text or a phone call, but you may sometimes also get a letter
When you are vaccinated
When you've had the first injection, you will be told where and when to go for your second injection.
You will be given a Covid-19 vaccination card.
Keep your card safe and make sure you go to your second appointment to get your second injection and take your card.
You can also check your vaccination status online on the NHS website.
What to do if you are not well when it is your appointment
If you are not feeling well, wait to have your vaccine when you feel better. You should try to have it as soon as possible. You can call the same number that you used to make your first appointment.
You should not attend a vaccine appointment if you are self-isolating, waiting for a coronavirus test or unsure if you are fit and well.
What to do when you have had the vaccine
Covid-19 vaccine side effects and safety
The Covid-19 vaccines approved for use in the UK have met strict standards of safety, quality and effectiveness.
They can cause some side effects, but not everyone gets them.
Any side effects are usually mild and should not last longer than a week, such as:
A sore arm from the injection
Feeling tired
A headache
Feeling achy
Feeling or being sick
You can take painkillers, such as paracetamol, if you need to.
You cannot catch coronavirus from the vaccine but it is possible to have caught coronavirus and not realise it until after your vaccination appointment. If you are feeling unwell or you're worried you might have coronavirus, call 111 or visit the NHS 111 website. Make sure you tell 111 that you have just had your coronavirus vaccine.
Find out more about Covid-19 vaccines side effects and safety
Health conditions and coronavirus (Covid-19) vaccination
If you are worried about a health condition you have and having the vaccination - there is information on the NHS website to explain more.
Vaccinations for 12 to 15 year olds
Anyone aged between 12 and 15 will be offered one dose of the Pfizer/BioNTech Covid-19 vaccine, following advice from the four UK Chief Medical Officers (CMOs). The NHS is currently delivering a schools-based vaccination programme, supported by GPs and community pharmacies.
Parents, guardians or carers will be asked for their consent by vaccination healthcare staff before vaccination in line with existing school vaccination programmes.
Healthy children aged 12 to 15 will primarily receive their Covid-19 vaccination in their school. There will be alternative provision for those who are home schooled, in secure services or specialist mental health settings.
You can find more information about the vaccination, including how the vaccine will protect you and common side effects, in the NHS Covid-19 vaccination guide for children and young people (pdf).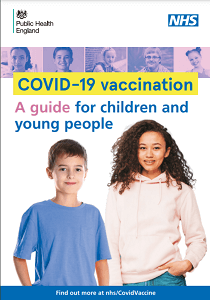 The Covid-19 booster vaccine
The Joint Committee on Vaccination and Immunisation (JCVI) has advised that certain individuals who received a vaccine in Phase 1 of the Covid-19 vaccination programme should receive a booster vaccine to boost their immunity against Covid which can wane after time.
This includes:
Those living in residential care homes for older adults
All adults aged 50 years or over
Front-line health and social care workers*
All those aged 16 to 49 years with underlying health conditions that put them at higher risk of severe COVID-19, and adult carers
Adult household contacts of immunosuppressed individuals
As most younger adults will only have received their second Covid-19 vaccine dose in late summer or early autumn 2021, the benefits of a booster vaccination in this group will be considered at a later time when more information is available.
*If you are a front-line health or social care worker, you can currently book your Covid-19 booster vaccination online.
Please remember to provide some form of staff identification when attending your appointment.
If you are not a front-line health or social care worker but are eligible for a Covid-19 booster vaccination, you must wait to be contacted by your GP first before booking online.
The JCVI has advised a preference for the Pfizer-BioNTech vaccine to be offered as the third booster dose irrespective of which product was used in the primary schedule. Alternatively, individuals may be offered a half dose (50µg) of the Moderna vaccine, which should be well tolerated and is also likely to provide a strong booster response.
The JCVI has said that the 2021 Covid-19 booster vaccine programme should not disrupt or delay deployment of the annual flu vaccination programme. Both of these programmes are important for the individual and the health of the wider public, especially over the winter. Therefore, the Covid-19 and flu vaccines may be given at the same time.
More information on the Covid booster on the gov.uk website.
Dr Simon Lennane, PCN Clinical Director and GP, Ross-on-Wye - and member of Herefordshire's Outbreak Control Group, has said:
Widespread roll out of vaccines is the best way to move forward out of this pandemic, so the NHS strongly encourages vaccination. Covid-19 vaccines significantly reduce the chance of contracting serious illness, but it is still possible to catch and transmit the virus even after vaccination, so it remains important to continue using face coverings, maintaining social distance, washing hands regularly and ensuring good ventilation, while we still have people who have not been vaccinated.
If you are worried about any aspects of the Covid-19 vaccination programme the NHS have produced some really helpful explainer videos on their YouTube channel.