Busting the coronavirus myths
There is so much information flying around the internet and social media about the 'truth' about Covid-19 and vaccinations.
Here we want to help to stop the worry about what is true and what is not true with some trusted myth busting information.
Any mild symptoms you may experience from the vaccine means it's working and should only last a few days

The most common Covid-19 vaccine side effects include:
A sore arm where the needle went in
Tenderness or aching in the arm
Tiredness, headaches, general aches and mild flu-like symptoms, for some
Side effect symptoms are generally mild and will usually last one to two days. Some people can experience them for longer - up to one week.
Because everyone is different, the side effects you might experience (if you get any at all) will depend on which vaccine you receive, whether it's the first or second dose, and you as an individual.

All Covid-19 vaccines approved for use in the UK with authorisation from the Medicines and Healthcare products Regulatory Agency (MHRA) are considered safe, and will continue to be monitored for safety and effectiveness.
(Source British Red Cross)
There is no scientific evidence that the Covid-19 vaccine affects fertility
Can you have the Covid-19 vaccine if you're pregnant or breastfeeding?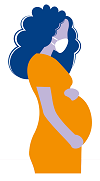 If you're pregnant, you should get vaccinated as soon as possible. There is growing evidence showing that women who are pregnant are at increased risk of serious consequences from Covid-19 and should be considered a clinical risk group within the Covid-19 vaccination programme.
It is currently recommended for you to have the Pfizer/BioNTech or Moderna vaccine if you're pregnant (because they've been more widely used during pregnancy in other countries).
If you are worried about being vaccinated while pregnant or breastfeeding, speak to your healthcare professional (GP or midwife) before you have the vaccination. They will discuss the benefits and risks with you.
The vaccine cannot give you or your baby Covid-19.You can also have the Covid-19 vaccine if you're breastfeeding.
Read the latest Covid-19 vaccine advice on GOV.UK if you're pregnant, may get pregnant or are breastfeeding
(Source British Red Cross)
Covid-19 vaccines do not change or interact with your DNA in any way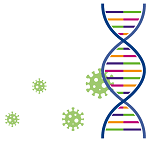 Both messenger RNA (mRNA) and viral vector Covid-19 vaccines work by delivering instructions (genetic material) to our cells to start building protection against the virus that causes Covid-19.
After the body produces an immune response, it discards all the vaccine ingredients just as it would discard any information that cells no longer need. This process is a part of normal body functioning.
The genetic material delivered by mRNA vaccines never enters the nucleus of your cells, which is where your DNA is kept. Viral vector Covid-19 vaccines deliver genetic material to the cell nucleus to allow our cells to build protection against Covid-19. However, the vector virus does not have the machinery needed to integrate its genetic material into our DNA, so it cannot alter our DNA.
Learn more about how Covid-19 vaccines work.
(Source CDC)
The Covid-19 vaccine is safe and effective, it was tested the same way all vaccines are tested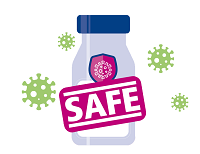 Safe
The coronavirus vaccines are safe and effective, and will give you the best protection against Covid-19. While they were developed far quicker than the average 8-10 years required for previous vaccines, this is because of the massive effort by researchers, the money invested by governments, and the willingness of volunteers to trial them.
All vaccines approved were rigorously tested before being approved, and have met the strict standards of safety, quality and effectiveness set out by the MHRA.
Vaccines are the most effective way to prevent infectious diseases and save up to three million lives worldwide every year. Thanks to vaccine roll-outs in the past, diseases like smallpox, polio and tetanus no longer exist or are very rare.
Read why vaccination is safe and important.
Effective
Several studies of vaccine effectiveness conducted in the UK indicate that two doses of the Covid-19 vaccines are between 65% and 95% effective at preventing symptomatic disease. The Delta variant provides higher levels of protection against severe disease including hospitalisation and death.

Work is currently on-going to establish the vaccines effectiveness against the Omicron variant.
Read more about vaccine effectiveness
(Source British Red Cross)
You cannot catch coronavirus from the Covid-19 vaccine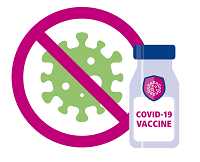 You cannot catch Covid-19 from the vaccine but it is possible to have caught Covid-19 and not realise you have the symptoms until after your vaccination appointment.
Although a fever can occur within a day or two of vaccination, if you have any other Covid-19 symptoms or your fever lasts longer, stay at home and arrange to have a test.
(Source GOV.UK publication)
The amount of ethanol used is less than you find in a piece of fruit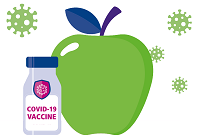 There are no foetal cells or animal products in Covid-19 vaccines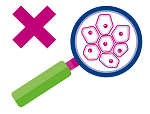 The Covid-19 vaccines are all safe, effective and suitable for Muslims to have. The vaccines do not contain any animal products, although the Oxford/AstraZeneca vaccine contains a very small amount of alcohol (2 mg of ethanol per dose of 0.5 ml).
However this amount of ethanol is negligible - similar amounts are found in foods such as bread - and the vaccine has been fully endorsed by the British Islamic Medical Association.
The British Islamic Medical Association have produced a helpful guide for the Muslim community.
(Source NHS Cheshire and Merseyside)
Find the truth about the vaccine from a trusted source like the NHS or GOV.UK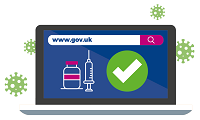 With so much information about Covid-19 out there, how do you work out what to trust? If you're not sure about a claim, you can use the government's SHARE checklist, to examine it more carefully, before you like, retweet or spread the word to family and friends:
What's the source?
Be wary of 'facts' from anonymous sources - someone's Uncle Bob, or a friend of a friend. Always rely on official sources for medical and safety information - we've listed some at the end of this page. If a story is meant to be coming from an official source, check back on the organisation's website to be sure.
Always look to trusted sources for health information including coronavirus and vaccines always check the NHS website and GOV.UK. Visit the World Health Organization website (WHO) too, for the global picture.
The Vaccine Knowledge Project is a source of independent information about vaccines and infectious diseases from the University of Oxford.
The Full Fact website independently checks out claims and reports back. The International Fact Checking Network has a database of fact checks about coronavirus from around the world.
Go beyond the headline
Headlines are there to grab attention, they don't tell the full story. Always read to the end before you share any stories about Covid-19 and especially vaccines.
Do some analysis
Don't take anything at face value - go deeper. If something sounds too odd to be true, it probably is. Check who else is covering the story. If true, it's likely that a serious or troubling claim would be reported widely across news outlets, so try and verify it with an internet news search.
Has it been retouched
Remember that images and videos can often be used out of context or edited and retouched to suggest something misleading.
Look for errors
False news stories on social media and websites can be hidden behind accounts and pages that look familiar, such as the BBC. Check for odd looking URLs and Twitter handles. Bad spelling and poor layouts should also ring alarm bells - official guidance about Covid-19 will have been checked many times.
When it comes to Covid-19, there are plenty of interesting theories out there.
And if you're wondering. Do flies spread Covid-19? Can you catch the virus from your shoes? Will adding pepper to your soup protect you? The answer is 'No', according to the WHO's mythbusters' page, which aims to separate fact from fiction.
So please get vaccinated - to protect yourself and protect others.
Covid-19 booster vaccine
Every person aged 12+ is now eligible for Covid-19 vaccination and most people aged over 18 are eligible for a booster dose.
For full vaccination clinic details, please visit Taurus Healthcare's website