Staying safe in schools, colleges and early years
COVID-19 symptoms in children
If your child has any of the following symptoms of coronavirus (COVID-19), you will need to book a test online or call 119 and keep them off school to self-isolate for 10 days.
A high temperature
A new, continuous cough
A loss of, or change to their sense of smell or taste

It is important that you only book a test if your child has one or more of the symptoms listed above.
Household contacts
If your child has had a test, your household must isolate until you receive the test result unless you meet the following criteria:
You're fully vaccinated – this means 14 days have passed since your final dose of a Covid-19 vaccine given by the NHS
You're under 18 years, six months old
You're taking part or have taken part in a Covid-19 vaccine trial
You're not able to get vaccinated for medical reasons
If you meet the criteria above you don't have to isolate but should take a PCR test as soon as possible.
If you do have to isolate, you can only stop if the test is negative.
Non household contacts of a case
If your child is a contact of someone who has tested positive for Covid-19 and they are under the age of 18 years and 6 months they do not need to isolate. If they are 5 years or older they should take a PCR test as soon as possible but they do not need to isolate before getting the test or the test result.
Asymptomatic testing
Your child's nursery, school or college may be taking part in the asymptomatic testing programme. Rapid testing using lateral flow devices (LFDs) will help to identify people who are infectious and can spread the virus without knowing, but do not have any coronavirus (COVID-19) symptoms. Those who test positive must self-isolate for 10 days, along with the rest of their household, helping to reduce spread of the virus and keeping other pupils and students in face-to-face education.
Nurseries and primary school children
Pre-school children and primary aged pupils do not need to be regularly tested. However, staff will be taking part in the asymptomatic testing programme to help reduce transmission of the virus and keep everyone safe. Households of any children that attend an education setting are encouraged to self-test at home.
Secondary school pupils and college students
All secondary aged pupils and college students will be given home test kits by their school or college, and will be asked to regularly test themselves twice a week at home and report the results to NHS Test and Trace, as well as with your school or college.
The home test kits will include information on how to carry out the tests and how to report the results. Schools and colleges will have their own small testing sites so that pupils who are unable to test themselves at home can still participate.
All students who attend a secondary school will be asked to do their first two lateral flow tests at the start of the school year at school. This is so that students can learn good techniques to get accurate test results during the year.
If your child is aged 11 and attending a secondary school, you or another adult should conduct the test
If your child is aged 12 to 17 they will need adult supervision to self-test and report. You or another adult may conduct the test if necessary
Students aged 18 and over should self-test and report the result, with assistance if needed
If your child tests positive at home, school or college, they will need to:
We strongly encourage you and your child to take part in the school or college's testing programme, to help us break the chains of transmission and manage the virus. Your child will not be stopped from returning to school or college if you or they choose not to be tested, and will return to face-to-face education in line with their school or college's arrangements.
Anyone with symptoms, whether they are involved in this programme or not, should book a free NHS test and follow government self-isolation guidance until the results of their test are known.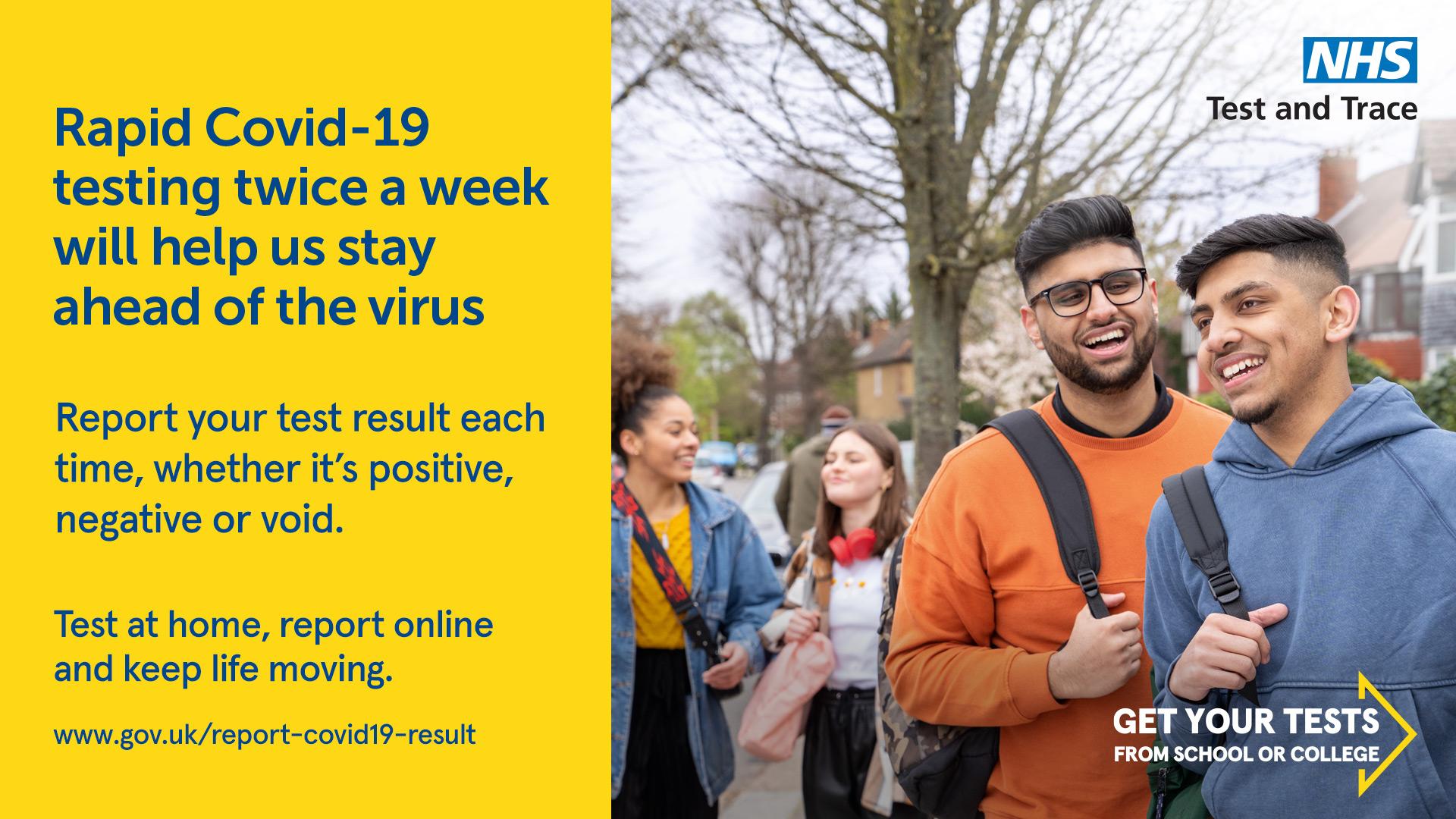 Self-testing at home
Members of households, childcare or support bubbles of school staff and pupils
If you're a member of a household, childcare bubble or support bubble of staff or a pupil (but not a secondary school pupil, a primary or secondary school staff member)
It is recommended you get tested twice a week, 3 or 4 days apart.
At a local test site
By collecting a home test kit from a test site
By ordering a home test kit online
Abi shows us how to do a Covid-19 self-test
If you, your child, or someone in your household or childcare bubble are worried about what is involved in self-testing, then Abi can help provide some reassurance with this video she has made about doing a self-test at home.
There are also individual videos for each step of the test provided by the NHS.
Face coverings on school transport
It is no longer a legal requirement that all children and young people aged 11 and over to wear a face covering on public transport. However, the Government still expects and recommends that they are worn (unless you are exempt) in enclosed and crowded spaces where you may come into contact with people you don't normally meet. This includes public transport and dedicated transport to school or college.
More information on exemptions
More information on school transport and Covid-19
Face coverings in school
Face coverings are no longer recommended in school in classrooms or communal areas.
Face coverings are still recommended in enclosed, crowded areas with people who usually wouldn't usually meet, such as public or school transport.
Stay apart so your children can stay together
Socially distance at drop off and pick up times, if you can't social distance wear a face covering as you will be in contact with people you wouldn't usually meet
Stay at home and get a PCR test if you have a new continuous cough, high temperature or loss of smell or taste. You can book your PCR test online or call 119
Stay at home and isolate if a household member has symptoms or if you have been in contact with a positive person, unless you are exempt
Take part in the lateral flow testing twice per week if you are a parent or are a secondary school or college student. You can order your tests to be delivered to your home or find your nearest test site
Let your school know as soon as possible if you have a positive test result, either on a lateral flow or PCR test
By staying apart and following the advice of your child's school you can help your children stay together.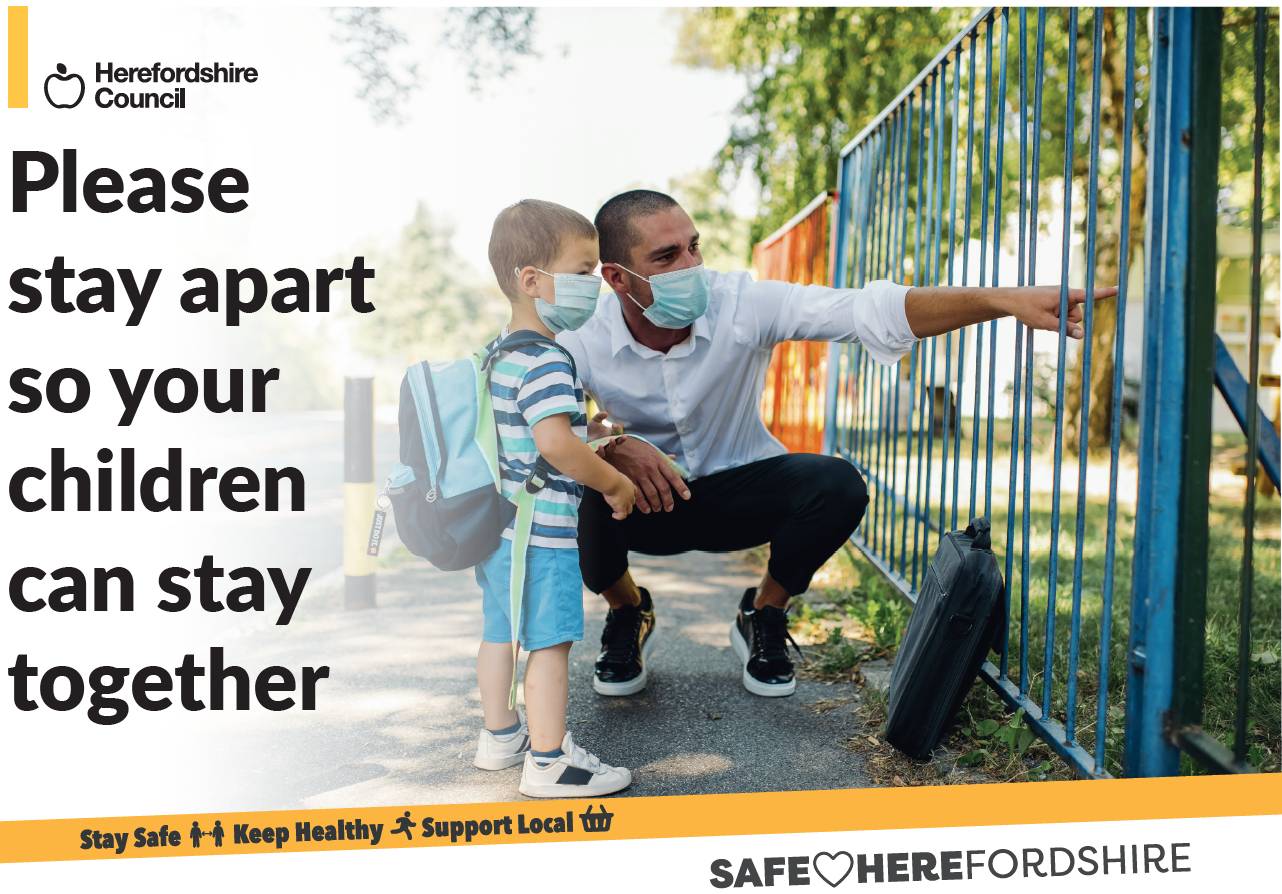 Ventilation in schools
Schools will continue to open their windows to allow for the flow of fresh air as there is strong evidence that getting as much fresh air as possible into buildings, including your own home, will significantly reduce the spread of infections, including coronavirus. This may mean that the temperature in your child's classroom will be a little bit chillier than normal, so where possible we recommend that you provide your child with an extra layer of clothing to wear under their normal uniform.
At all times remember the golden rules
Wash hands - Keep washing your hands regularly
Cover face - Wear a face covering in enclosed spaces
Make space - Stay at least 2 metres apart - or 1 metre with a face covering or other precautions
Fresh air - Make sure you let plenty of fresh air into your home by uncovering vents and opening doors and windows, even a small amount for a short period of time.
Let's keep Herefordshire safe together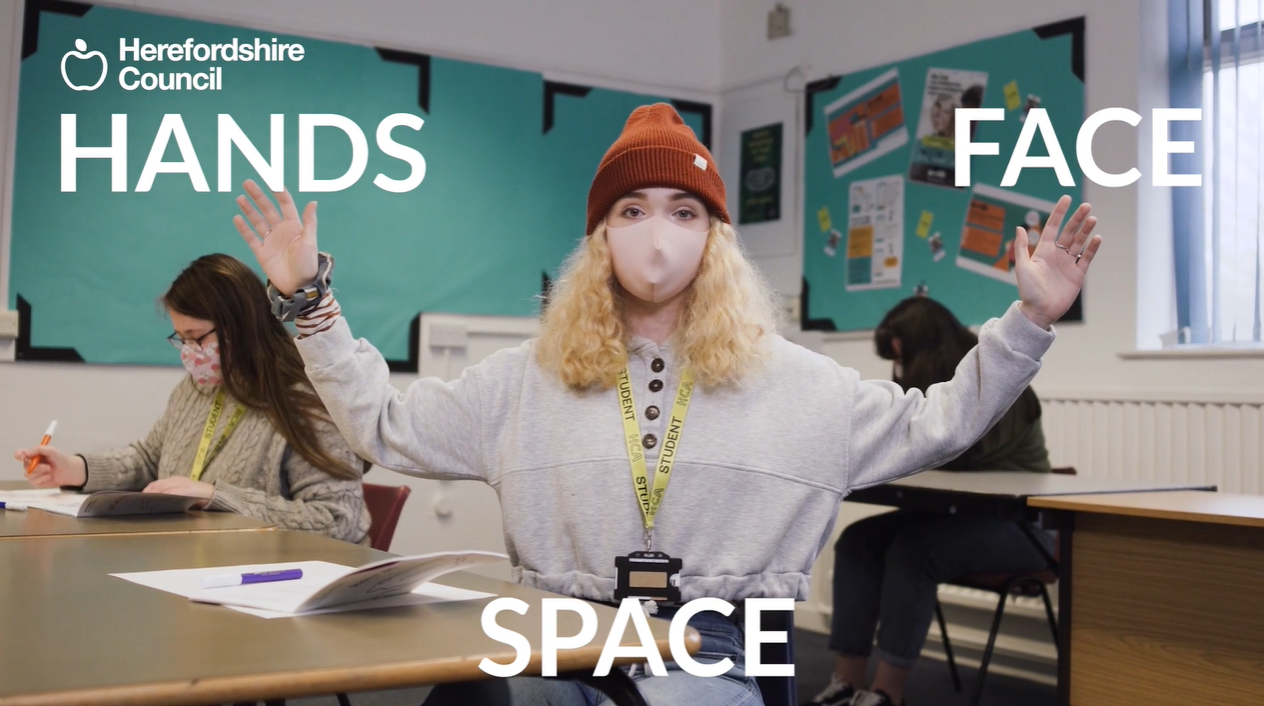 For local advice about coronavirus visit: www.herefordshire.gov.uk/coronavirus
For the latest government coronavirus guidance visit: www.gov.uk/coronavirus