Staying safe in schools, colleges and early years
Covid-19 symptoms in children
If your child has any Covid-19 symptoms, you will need to book a test online or call 119.
They should not come to school if:
They have symptoms of Covid-19:

A high temperature
A new, continuous cough
A loss of, or change to their sense of smell or taste

They have had a positive test result or
There are other reasons requiring them to stay at home due to the risk of passing on Covid-19
The public health advice should be followed on when to self-isolate and what to do.
If your child develops symptoms while at school they will need to return home, avoiding using public transport and, wherever possible, be collected by a member of their family or household. The household (including any siblings) should follow the UKHSA stay at home guidance for households with possible or confirmed coronavirus (Covid-19) infection.
Contact with someone with Covid-19
Children and young people aged between 5 and 18 years and 6 months, identified as a contact of someone with Covid-19, are strongly advised to take a LFD test every day for 7 days
They should continue to attend their school or college as normal, regardless of their vaccination status
unless
They have a positive test result
or
Your child's school has special measures in place.
In this case you may be asked to keep siblings at home if someone in your household has tested positive, in order to limit the spread.
Check with your school if you are not sure of their current requirements.
Children under 5 years are exempt from self-isolation as a close contact and do not need to take part in daily testing as close contacts (they still need to isolate if they test positive).
Pupils with SEND identified as close contacts will be helped by their school to agree the most appropriate route for testing with their family, including, where appropriate, extra support to help with swabbing.
Where pupils have to self-isolate because they have tested positive, schools and colleges will have arrangements in place to support your child to learn from home if they are well enough to do so. This will also be the case for household contacts if they are asked to stay away from school.
Asymptomatic testing
Take a lateral flow test before going to places that could be high risk for spreading infection such as crowded and enclosed spaces.
Test before you visit people who are at higher risk of severe illness if they were infected with Covid-19.
Lateral flow test results
If your child tests positive at home, school or college, they will need to:
We strongly encourage you and your child to take part in the school or college's testing programme, to help us break the chains of transmission and manage the virus.
Nurseries and primary school children
Pre-school children and primary aged pupils are not included in the rapid testing programme since the UK Health Security Agency has advised there are limited public health benefits attached to testing the group. However, staff should continue to test twice weekly at home with rapid flow device (LFD) test kits, 3 to 4 days apart, to help reduce transmission of the virus and keep everyone safe. Households of any children that attend an education setting are encouraged to self-test at home.
Secondary school pupils and college students
All secondary aged pupils and college students will be given home test kits by their school or college, and will be asked to regularly test themselves twice a week at home and report the results to NHS Test and Trace, as well as with your school or college.
The home test kits will include information on how to carry out the tests and how to report the results. Schools and colleges may have their own small testing sites so that pupils who are unable to test themselves at home can still participate.
If your child is aged 11 and under, you or another adult should conduct the test
If your child is aged 12 to 17 they will need adult supervision to self-test and report. You or another adult may conduct the test if necessary
Students aged 18 and over should self-test and report the result, with assistance if needed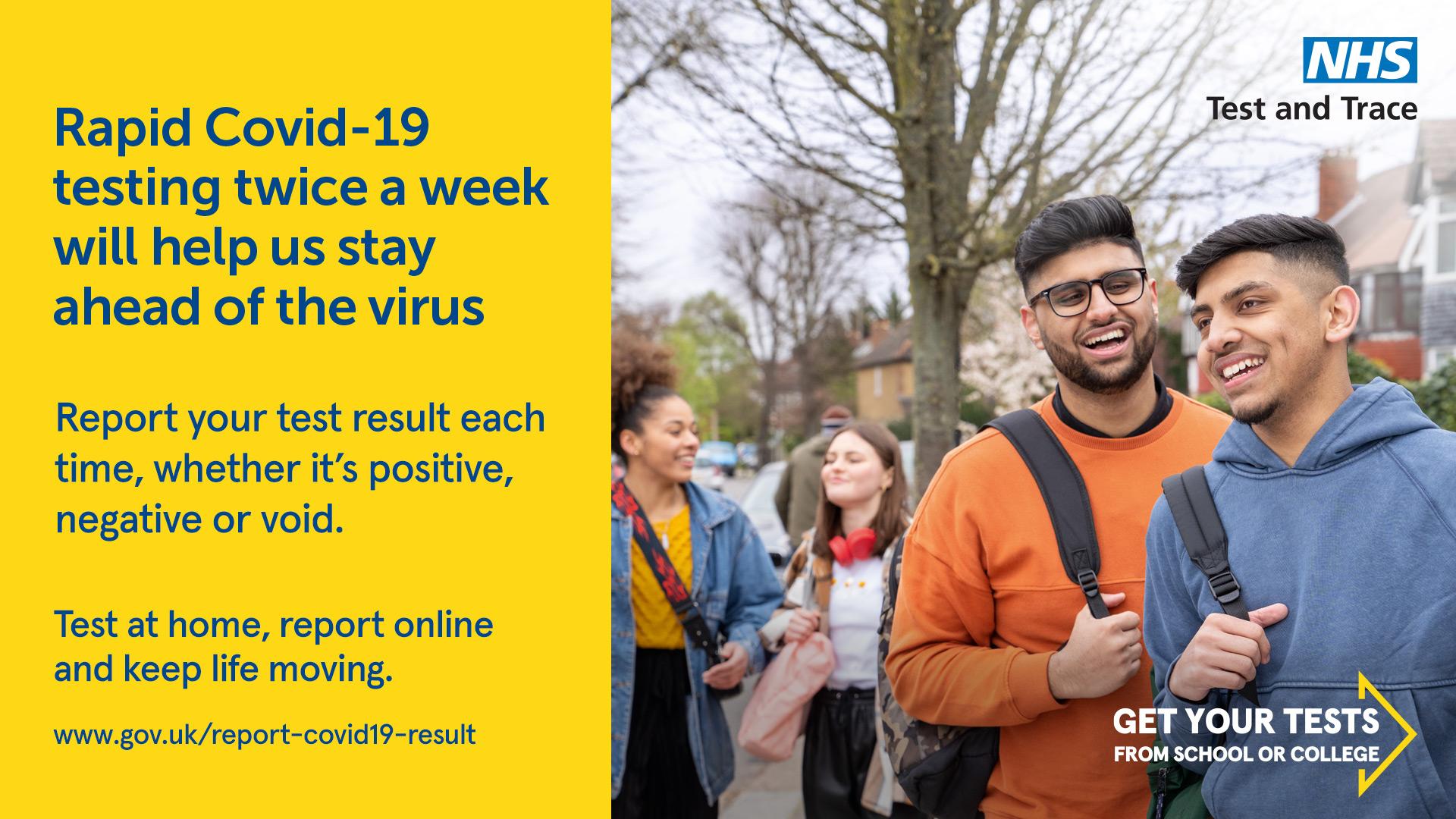 Face coverings on school transport
If your child is 11 or over and they travel to school or college using public transport or designated school transport, they must wear a face mask, unless they are exempt. View the latest advice on our school and college Covid-19 transport page.
Face coverings in school
From 20 January 2022, face coverings are no longer advised for pupils, school staff and visitors in classrooms.
From 27 January, face coverings are no longer advised for pupils, school staff and visitors in communal areas.
Full information on face coverings is available on the government website.
Ventilation in schools
Schools will continue to open their windows to allow for the flow of fresh air as there is strong evidence that getting as much fresh air as possible into buildings, including your own home, will significantly reduce the spread of infections, including coronavirus. This may mean that the temperature in your child's classroom will be chillier than normal, so where possible we recommend that you provide your child with an extra layer of clothing to wear under their normal uniform.
Mental wellbeing
We are aware that the circumstances caused by the pandemic may have an effect on a child's mental wellbeing. The Talk Community website provides local and national mental health and wellbeing support and advice. The NHS Every Mind Matters website also has advice for parents and guardians for looking after the mental wellbeing of children and young people during Covid and there is also a separate section on the website providing mental health and self-care tips for young people.
More information