Home learning
We know that home learning can be difficult, particularly if you are a working parent, so we have put together some useful information to support you and your child whilst they are continuing their education from home.
Setting up your 'class'
Your child's school will not expect you to be a teacher, so remember to set realistic goals for you and your child each day. Trying to cover everything is probably going to make you and your child anxious - anxious, especially if you're juggling your work and trying support them with their learning.
We recommend that you prioritise the core subjects - Maths and English.
You can cover the rest of the curriculum in different ways, for example, watching Horrible Histories or Blue Planet is a great way to cover History and Geography. Be creative Ofsted won't be checking up on you.
You don't need to reinvent the wheel. There are so many free online resources, as those that can be provided by your child's school.
Try to plan what you're going to cover, and do your best to follow your plan. Like any new job, the first few days will be about finding your feet.
Children and adults respond well to structure, especially a morning routine, so get out of your PJs and put on your new 'school uniform', whatever this may be, you could have a theme each week if you liked.
Try and design the routine together with your children, if you can find a space for your new class - their new classroom, put up a sign when it is in use - something like 'Welcome to our classroom' for younger children. This way your child will identify this space with learning and will find it easier to switch off when they are in other areas of the house. For older children try and make sure they have a learning space as well, this may be in their bedroom. Make sure they take regular breaks and try to create a routine with a dedicated lunch break for everyone, it may be that their school day starts later than for younger children - but that is fine, just help them create structure from whatever time they start.
Try to follow some parts of the school day - setting break and lunch times. You don't need to have a bell for this, but we're sure you (or your children) can find a suitable sound!
Try to meet virtually with other "schools" (families), either do work together or a have virtual playtime/break, it's good to have a 'staffroom' as well where you can virtually catch up with your friends who are also helping with home learning.
After you've covered a topic, try swapping over the pupil/teacher roles and get the children to teach you what they've learned.
Always take time to relax, eat a good diet and have a go at PE together, even if it's just running up and down the stairs or around the room
Stay positive, don't be hard on yourself or your child, you are both getting used to this new 'school' and remember... your best will always be enough.
Getting online
Not everyone has access to a laptop or tablet, but do you have a games console in the house?
You can connect to the internet and your child's online learning with these devices.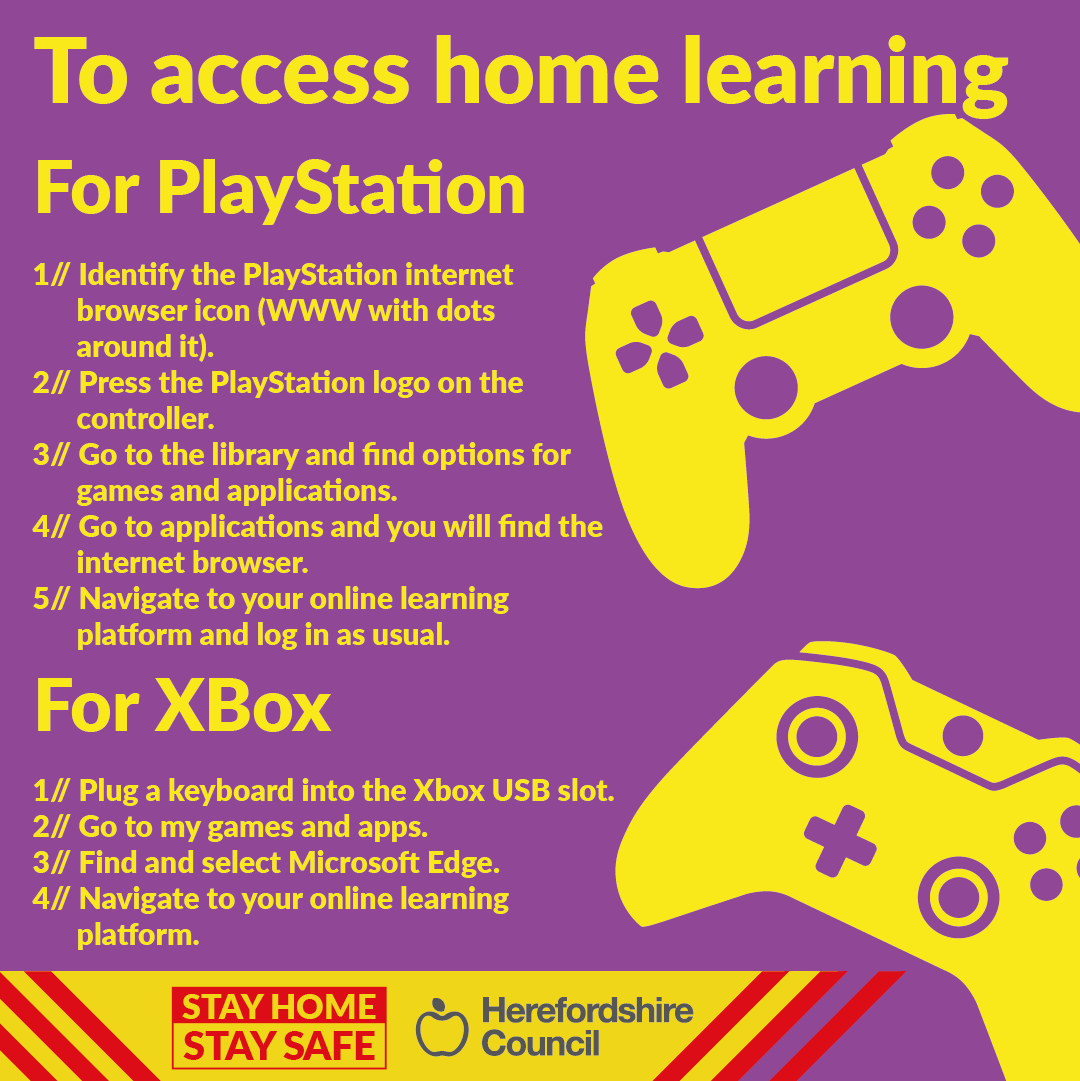 Can't get online
If you don't have any of these devices, then we recommend that you get in touch with your child's school as the government are providing funding to try and provide some laptops for those who do not have access to one, though funding is limited.
If you don't have broadband or your connection is poor then again speak to your school - the government and some service providers are providing some free wireless routers and data so you can access your child's online learning.
If you aren't able to access these, as funding is limited, then some mobile internet and broadband providers are offering low-cost deals, which can help when home schooling, for families in receipt of certain means-tested benefits. The companies we're currently aware of, are BT Basic and Virgin Media Essential Broadband but If you already have a mobile or broadband service, it's worth contacting your current provider to see what they are offering. Remember to always shop around to find the best deal for your circumstances and make sure you fully understand the details of any contract before signing up.
Lesson help is available
There are lots of online resources, but there is also support available on the BBC, this will begin from Monday 11 January, check you TV Guide.
CBBC channel will have a three-hour block of primary school programmes from 9am. This will include programmes from BBC Live Lessons and BBC Bitesize Daily as well as Our School, Celebrity Supply Teacher, Horrible Histories and Operation Ouch>
BBC Two will run at least two hours worth of educational programming for secondary students every weekday, which will include adaptations of Shakespeare plays as well as science and history programmes
Online resources
The UCL has produced and extensive list of online resources available from Primary to Secondary and for all subjects, including PE
Here is a summary of some of the lesson support available
Herefordshire Libraries also have a page of online resources for families.
Hay festival have made all their programme for schools events available to watch for free to help with your child learning from home.
Little Soundabout is a free music project for young children 0-5 who have complex needs, including a learning difficulty. The project offers resources for musical and personal development through up to four sessions a year until July 2022. You can access a dedicated music practitioner to work with your family at home or online. For more information please contact the Soundabout team by email at info@soundabout.org.uk, phone 01235 797474 or follow @soundaboutuk
If you are worried about your child's safety online then there is new guidance on the GOV.UK website on staying safe online. Also 'Think You Know' are releasing fortnightly activity packs for parents to do with their child to support their safety online. The packs are aimed at children from aged 4 to 14+ and are available on the Think You Know website. There is also a wealth of information and advice for parents and carers on the website around internet and gaming safety.