Funding case studies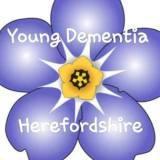 Young Dementia Herefordshire – a case study of how the local enterprise and funding team at Herefordshire Council support local groups
An embryonic group named Young Dementia Herefordshire initially visited us at our Funding Drop In, as part of our support for Small Charities Week on June 20 2018 at Hereford Library.
It was interested in expanding the remit of the group catering for the needs of younger people with dementia related issues, living in Herefordshire. 'Young dementia' includes anyone under 65 years of age who may be diagnosed or affected.
The group was concerned that while Herefordshire was nationally recognised as a leader in conventional community dementia intervention, through projects such as the Courtyard's Ageing Well Programme, little was being done to help people of a younger age, whose plight was being overlooked because it 'doesn't affect them'.*
Initially we supported the group with general guidance around organisational matters, including the workings of a registered charity and the process needed to get there. Through this relationship, we were able to assist its initial development. So for example, if its turnover were to exceed £5,000 a year, it would need to register with the Charity Commission, which in turn would open up doors to more funding opportunities. This is the route the group chose to take and with our support, it is on the verge of being registered as a charitable organisation.
We worked with the group to decide on its initial priority - a programme of rural outreach to the more isolated areas of the county, coupled with publicity material and drop in days to raise awareness of the issue.
The team has helped the group to gain valuable knowledge and insight into the workings of a charitable organisation, being clear about what it wants to achieve, as well as having a long term plan to ensure it is viable and sustainable.
To date £25,000 in potential local and national funding has been identified to support this work, and the group will continue to be supported in the forthcoming months to proceed with these applications.
Find out more about the group and all the support it is providing for young dementia sufferers in Herefordshire at www.youngdementiaherefordshire.org or on their Facebook page.
If you would like to find out more about what support could be available to your group then visit the Funding and enterprise pages, or you can call or email the team on projectdevelopment@herefordshire.gov.uk or 01432 383030.
*Young Dementia UK reports that 1 in 10 adults between 50 and 65 can develop early onset of dementia between the ages of 50 and 65. In 2014, the same organisation estimated that there are 42,325 people in the UK who have been diagnosed with young onset dementia. This constitutes about 5% of the national total dementia population.