Hereford e-cargo bike grant 2023
This grant scheme is now closed to applications
For businesses and organisations in Hereford. Funded by the Towns Fund.
Deadline for applications: Friday, 8 September 2023
Choose how you move Hereford E-cargo Bike Grant 2023 is offering Babboe e-cargo bikes for Hereford businesses or organisations. See map below for eligible area.
By cycling short journeys that would normally be made by car or van, your employees can:
Save time and beat the traffic
Save on fuel costs
Get active during the working day
Get a breath of fresh air
This scheme differs from previous e-bike and e-cargo bike grants, as successful applicants will be directly awarded a Babboe e-cargo bike, instead of funding towards a bike.
What can you apply for?
Your business or organisation can apply for one Babboe e-cargo bike.
Please read the E-cargo Bike Guide, before you fill in an application form. The guide includes photo and details of the bike, as well as other important information. We are unable to provide viewings of the bikes.
In exceptional circumstances, two e-cargo bikes can be included in your application, along with clear evidence of need.
Purpose
The e-cargo bike must be used for business purposes and/or support the operations of the organisation.
Examples include:
Delivery services, for example, groceries, parts
Moving items/equipment between sites
In your application, you will need to:
Provide information on how you anticipate the bikes will be used. For example, where you will be travelling from and to, what you will be transporting, and how often you will make the journeys
Explain who you anticipate will use the bike
Confirm that you will make sure that only competent and confident riders will use the bike
Commuter mileage on the e-cargo bike will not be eligible for your application, and should not be included in your anticipated mileage.
Please ensure that you have appropriate insurance to cover employees using the e-cargo bike as well as cover for public liability and theft.
Aims
The aims of the grant funding to businesses and organisations for an e-cargo bike are to:
Promote and encourage low carbon transport solutions
Reduce congestion and improve air quality
Reduced fuel charges and vehicle maintenance charges to individual businesses
Encourage healthier travel choices
Help reach the carbon neutrality target by 2030
Outcomes
We are looking for the following outcomes:
Increased number of e-cargo bike journeys
Increased number of e-cargo miles travelled
If you receive a grant, you will be asked to keep records of use for three months.
Who can apply
Businesses and organisations of all sizes can apply, including sole traders.
Charities and public sector organisations can also apply, where demand and benefit can be demonstrated. However, priority will be given to businesses, in accordance with the scheme funding requirements.
Applicants will need:
Premises in the Town's Fund eligible area*
(see area marked with black boundary on the map below)
A bank account in the business name
To have been in operation for at least 12 months
*Herefordshire businesses and organisations with premises located outside the eligible area can apply, but they will need to demonstrate how they will use the e-cargo bike for business purposes within the eligible area.
Eligible area for funding (within black boundary line)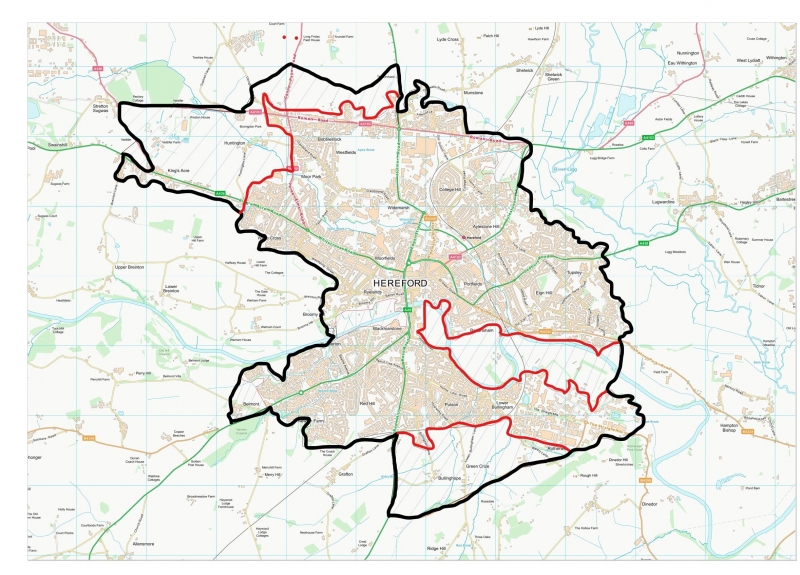 How to apply
This grant is now closed for applications.
Email completed forms to delegatedgrants@herefordshire.gov.uk or ring us on 01432 260753 and a form can be emailed to you.
The deadline to apply was: Friday, 8 September 2023
Please apply as early as possible as the number of e-cargo bikes is limited, and applications will be assessed on a first-come first-served basis. We aim to let you know the outcome of your application within 6 weeks of the closing date.
What happens next
When we receive your application, we will acknowledge receipt. Applications will be assessed by an appraisal panel who will consider how well the proposal meets the scheme purpose, aims and outcomes.
Based on your application, and any further information you may have been asked to supply, the Panel will make a decision and you will be advised of the result to either:
Offer an e-cargo bike or
Reject the application with an explanation
Taking ownership of the e-cargo bike
Transfer of ownership will take place when the bike is collected.
If we offer you a grant, we will write to you with a grant offer. If you are happy to accept the grant offer and associated conditions, you will need to return a signed copy of the offer letter.
Once the offer letter is returned, you will be invited to collect the bike and receive a familiarisation session providing information on use of the bike. You will need to ensure insurance is valid from the date of collection of the e-cargo bike.
Please note: The person collecting the bike will need to be a competent and confident cyclist.
Completion of grant
Three months after taking possession of the e-cargo bike(s) you will need to submit a short report, (a template will be provided), together with a log recording the usage.
Further information
Please help us to help future applicants by telling us if you have any queries which are not answered in this document.
If you would like help to understand this document, or would like it in another format or language, please contact the Delegated Grants Team at Herefordshire Council on 01432 260753 or email: delegatedgrants@herefordshire.gov.uk