Greening the City - Community grant scheme
We are offering funding to support community groups to apply to enhance and increase green spaces and support the biodiversity of areas within the boundary of the Stronger Towns Fund within Hereford City. The project is part of the #StrongerHereford vision that has attracted up to £22.4m in government funding to regenerate the city.
The deadline for applications is midnight on Wednesday 22 February 2023. Please read the information below before you apply.
Eligible area for funding (within black boundary line)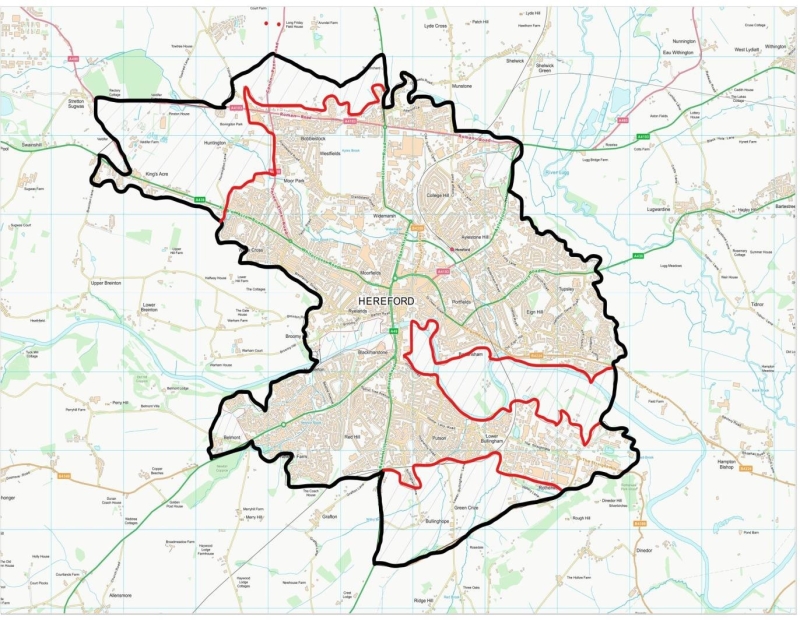 Aims
Greening the City aims to:
Increase biodiversity in Hereford City. For example, by increasing the number of trees and wildflower areas, and by creating habitats for wildlife
Improve the sense of pride and place within the city for both residents and visitors
Increase the opportunity for communities to be involved in greening their local area
Outcomes
Outcomes to be achieved through the grants scheme are:
Create new or enhance existing green spaces within the city
What the grant can be used for
This is a capital grant. Sites should be within public, housing association, or charitable ownership. You are able to apply for capital items that will last more than one year.
Therefore any plants and items applied for must last more than one season. Examples of what the grant can be used for may include, but are not limited to:
Tree and hedge planting
Creation of wildlife corridors, for example, hedgehog corridors on housing estates
Community allotment project
Creation or enhancement of a community nature area
Support for wildlife such as bird, bat or bug boxes and hedgehog homes
The purchase of equipment for planting and ongoing long-term maintenance
Works must improve the appearance of the environment and perception and habitat of an area and:
Proposals should be able to demonstrate community approval/support
Any new planting should be of species native to the UK and ideally to Herefordshire
Funds will be awarded to constituted groups only
Projects and activities which are NOT eligible
The grant will not fund projects that are:
Outside the Towns Fund boundary
On privately owned land
Revenue costs, staffing costs or volunteer time
Retrospective funding
Items that are to be installed as a condition of planning permission for existing projects
Anything that promotes political, religious or discriminatory activities
How much you can apply for
The minimum amount of grant than can be applied for is £500 to a maximum of £5,000 during the lifetime of the grant scheme. The scheme is open for applications from Monday 23 January to midnight on Wednesday 22 February 2023. Any applications received after this point will not be considered.
Who can apply
Applicants must be a formally constituted non-profit business or organisation based in Herefordshire, for example, a registered charity, community interest company or a relevant parish council.
We also encourage applications from informal community groups and local organisations providing they partner with an eligible non-profit organisation or business. The lead applicant must be the non-profit organisation and as such will be required to demonstrate an appropriate level of involvement in the project.
All applicants will need to demonstrate their organisational status and have a bank account in the same name.
Schools, private individuals and commercial businesses are not eligible to apply.
If you are unsure whether your organisation can apply please contact Dave Tristram at Hereford City Council on 01432 260456, Dave.Tristram@herefordcitycouncil.gov.uk
or Isabelle Sheehy at Herefordshire Council Isabelle.Sheehy2@herefordshire.gov.uk
Applicants will need to:
Have a written constitution or mission statement.
Have an elected committee or representative steering group.
Have a bank account in the same name.
Be able to provide an up to date copy of their accounts and any relevant protection policies. Parish councils can signpost us to relevant online documentation and do not need to submit hard copies.
Provide copies of any quotes. You should consider a minimum of two suppliers for anything of an individual value of £250 or more and provide evidence of these on your application form, for example web links to product, or quotes from supplier and installer. Please also ensure you comply with your organisation's procurement policy, if you have one.
How to apply
If you need any support to complete your application, please contact Dave Tristram at Hereford City Council Dave.Tristram@herefordcitycouncil.gov.uk or Isabelle Sheehy at Herefordshire Council Isabelle.Sheehy2@herefordshire.gov.uk
Application guidance for Greening the City - Community grant fund
Email: delegatedgrants@herefordshire.gov.uk Telephone: (01432) 260753
Please email the completed form to the address above. Electronic versions are preferred, however hard copies can be sent to Delegated Grants and Programmes Team, Herefordshire Council, Plough Lane, Hereford, HR4 0LE. If you are posting your application form then please notify us in advance.
Deadline for applications
You can submit your completed application form at any time and it will be assessed at the next available panel meeting.
Applications must be received by midnight on Wednesday 22 February 2023.
We recommend that you apply as early as possible and do not wait until the deadline.
All grant offers will be awarded by 31 March 2023, with all projects to be completed, reports with final evidence and claims submitted by 31 January 2024.
What happens next
Once received, Herefordshire Council will acknowledge receipt of your grant application. The grant application will be assessed by a project panel who will make recommendations either for the application to be approved or rejected, or the panel may ask for further information before a decision can be made. This will require approval.
Grant applications are assessed on their individual merit by an independent panel against the grant funding eligibility criteria, the impact of the project and that it demonstrates value for money. All applications are subject to funding availability.
Based on your application and any further information you may have been asked to provide, we will advise you of the decision to either:
Offer a grant or
Offer a grant with some specific conditions or
Reject the application detailing the reasons why the application was not accepted
When you can start your project
If your application meets the eligibility criteria and you are offered a grant, you will be asked to provide:
A copy of your organisation's constitution
A recent bank statement showing your organisation's name, account number and sort code
Supporting evidence that other funding is in place (where relevant)
Copies of any relevant licences/permissions or insurances
A copy of your equality policy (if in existence)
Following this you will receive an offer letter setting out how much grant has been approved and detailing any specific terms and conditions. If you are happy to accept the grant offer and associated conditions, you will need to return a signed copy within 7 working days.
Terms and conditions of the grant offer
If you are offered a grant, you will be sent terms and conditions specific to your project.
Key points to consider are:
You should not start your project until you have signed the acceptance of grant and returned to the Delegated Grants Team.
You need to keep all paperwork relating to your project - all invoices, receipts and bank statements, as they will need to be submitted as evidence with your claims.
Information relating to user feedback and progress towards the outputs of your project should also be kept.
The grant will only be paid on invoices or receipts that have been paid, and are dated after the offer letter has been agreed by all parties.
Other specific conditions of grant will be included within your offer letter.
What happens if your project or budget changes
The council won't be able to give you more grant money if your costs increase, but will consider variations within the agreed budget as long as these are approved in advance.
You need to notify the Delegated Grants Team in writing as soon as you realise that you may need to make some changes to your project or budget in order to deliver your project.
When you will receive your grant payment
The council will make a payment of 50% of the total grant sum upfront in order to help you get your project up and running (depending on the scale and scope of your project and unless evidence dictates that your organisation may require an increased upfront grant payment dependent upon your financial situation). The balance will be paid upon the submission of an interim and/or final report and claim which will need to include invoices/receipts and satisfactory evidence that you have spent the funding in the way you had planned.
When you need to submit your report
Depending on the nature and length of your project, you will need to complete either an interim, or a final report within six months of claiming your grant summarising what your project has achieved. Your offer letter will set out the information that you need to collect and provide to the council.
Help us improve
Please help us to help future applicants, by telling us if you have any queries which aren't answered here.
If you would like help to understand this document, or would like it in another format or language, please contact the Delegated Grants Team at Herefordshire Council on 01432 260753 or email delegatedgrants@herefordshire.gov.uk.