Hereford Business E-bike Grant 2021
This scheme is now closed.
Existing applicants will be contacted with the outcome of their application within four weeks.
Businesses and organisations can register with Herefordshire Council's Travel for Work network to be kept informed about future sustainable travel grant schemes from Herefordshire Council.
About the Hereford Business E-bike Grant
The Hereford Business E-bike Grant offers funding for electric bikes (E-bikes) and electric cargo bikes (E-cargo bikes) for business use. The scheme is administered by Herefordshire Council. It is funded by the Towns Fund from Ministry of Housing,Communities and Local Government.
Aims of the scheme
The Hereford Business E-bike Grant scheme aims to:
Promote and encourage low carbon transport solutions
Reduce congestion and improve air quality
Reduced fuel charges and vehicle maintenance charges to individual businesses.
Encourage healthier travel choices
Help reach the carbon neutrality target by 2030
E-bike or E-cargo bike(s) for business purposes
The E-bike or E-cargo bike(s) must be used for business purposes.
Examples include:
Travelling to meetings with clients, suppliers etc.
Travel between sites
Delivery services
E-bikes may additionally be used to commute to and from work if the business chooses to allow this. Consideration must be given to insurance requirements to cover employees using the bikes, and any tax implications.
Businesses which can apply for an E-bike grant
Businesses of all sizes can apply, including sole traders. Charities and public sector organisations will be considered where demand and benefit can be demonstrated. However, priority will be given to businesses,
Applicants will need:
Premises in the Town's Fund eligible area* (see area marked with black boundary on map below)
A bank account in the business name
To have been in operation for at least 12 months
*Herefordshire businesses and organisations with premises located outside the eligible area can apply, but they will need to demonstrate how they will use the E-bike or E-cargo bike for business purposes within the eligible area.
Eligible area for funding (within black boundary line)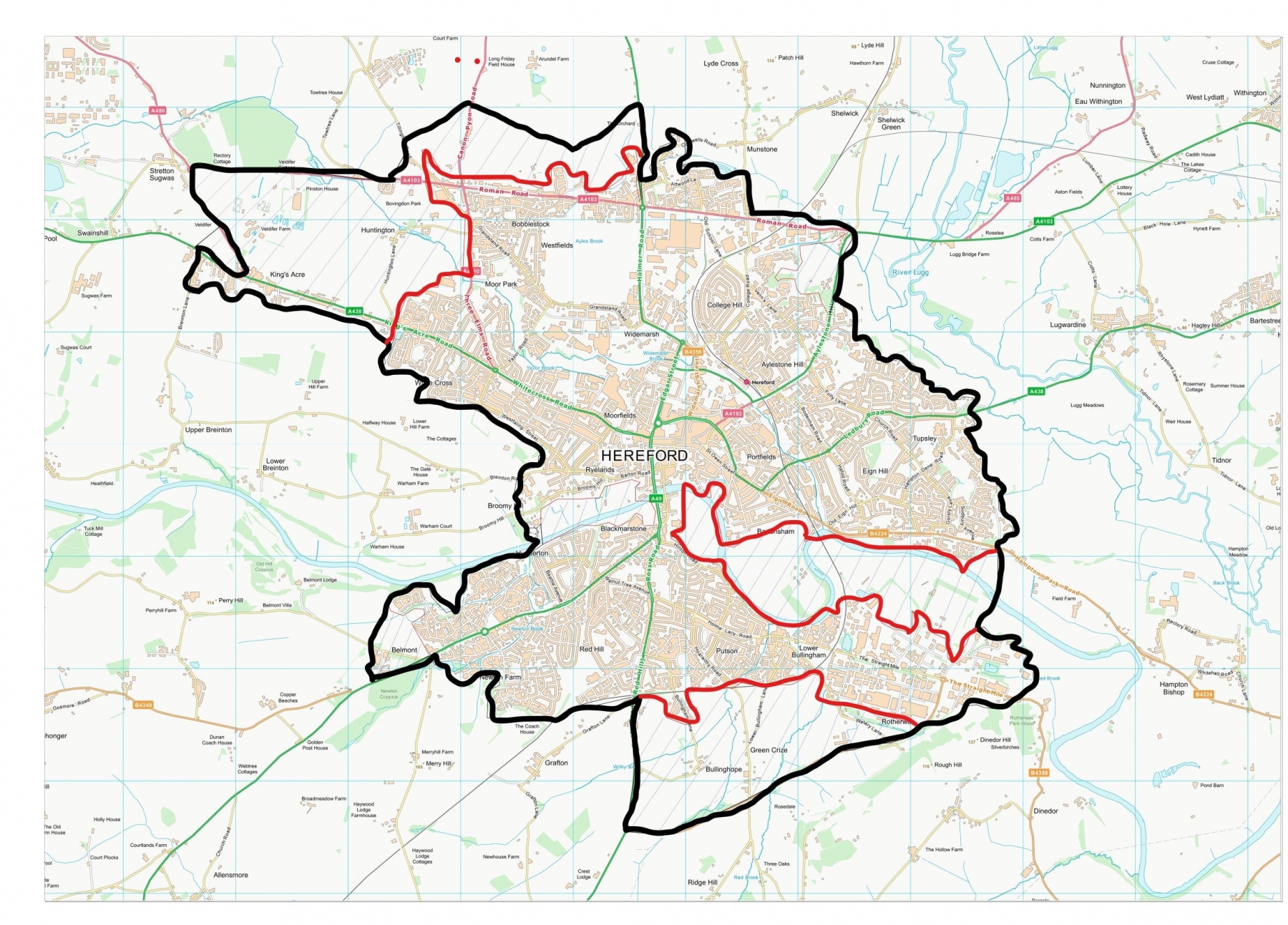 How much and what a business can apply for
Businesses can apply for a grant of up to £10,000.
The application can include 100% of the purchase costs, including any delivery costs.
Businesses wishing to purchase more than one E-bike must explain why additional bikes are required. The application can include the following items:
E-bike(s) suitable for urban cycling.
E-cargo bike(s)
E-bike accessories
Each E-bike and E-cargo bike must be equipped with the following accessories. The cost of these can be included in the grant application in addition to the cost of the bike:
Mudguards (to protect clothing)
Lights (so it can be used in winter)
Lock (so it can be secured in public when used on work business). Good quality D-lock preferred
Pannier and rack (for securely carrying any items or equipment), unless it's a cargo bike
Hi-viz vests in suitable sizes
Quick release saddle fittings (required for easy height adjustment for different employees)
Basic bike computer to record cycle mileage
Further details, including a list of optional accessories, can be found on the application form.
Required E-bike specifications
If your business is eligible, choose the specific items you wish to purchase before completing the application form. You will need to provide a quote from the supplier, or online links to the E-bike and accessories.
All E-bikes and accessories must:
Be bought new, preferably from a UK supplier. The supplier must be a registered business offering a guarantee for all items.
Be suitable for urban riding, unless you can demonstrate a need for an alternative style of E-bike.
Comply with the UK government regulations on Electrically assisted pedal cycles.
E-bikes are expected to cost between £1,500 and £3,000 each (RRP) including vat, to ensure that they are of appropriate quality.
(Please note that VAT registered businesses will receive a grant for the net cost of the bike).
There are no price restrictions on E-cargo bikes, but they will be expected to be of suitable quality and specification for the type of use that is planned. The maximum grant value of £10,000 will apply.
Best value must be demonstrated when selecting an e-bike or e-cargo bike. To demonstrate best value you should:
Consider three suppliers, and provide evidence of these. For example, web links to the product, or quotes from the supplier.
Consider the whole package, including additional services included in the cost of the bike, for example: bike set-up; post-purchase safety checks.
For advice on choosing an E-bike contact: Tina Kilner, Sustainability & Climate Change Team, Herefordshire Council at move@herefordshire.gov.uk
How the grant covers the cost of VAT
If the applicant is VAT registered: any grant offer will be for the cost of the item(s) excluding VAT.
If the applicant is not VAT registered: the grant can pay the cost of the item(s) including the VAT.
How grant applications are assessed
Grant applications are assessed by an independent panel against the criteria of:
Whether the E-bikes and accessories on the application are eligible
How the E-bikes will be used, and what the benefits will be
Value for money
Funding is limited, and eligible businesses are not guaranteed to receive a grant award.
Based on your application and any further information you may have been asked to supply, we will advise you of the decision to:
Offer a grant; or
Offer a grant with some specific conditions; or
Reject the application with reasons why.
When you will hear whether your application has been successful
We aim to assess applications within four weeks.
There may be delays if we need to contact the applicant for additional information, so it is important to include as much relevant information as possible on the application form.
When a business can purchase the E-bikes
We cannot fund any items that have been purchased before the applicant has received an offer letter and formally accepted the offer.
If the applicant is happy to accept the grant offer and associated conditions, the grant offer will need to be accepted within 7 days. The offer acceptance must be returned before purchasing the items.
The applicant may then purchase the items specified in the offer letter. The applicant will be given a deadline for purchasing the items.
Grant offer Terms & Conditions
If a grant is offered, the applicant will be sent terms and conditions specific to the application. Key points to consider are:
All paperwork relating to the project should be kept, for example all invoices, receipts
The grant will only be paid on invoices that are dated after the offer letter has been agreed by all parties.
How to submit a claim for payment
The claim for the grant payment can be submitted as soon as the applicant has paid for and received all agreed items. The applicant will need to complete the claim form and send it in with copies of all paid invoices from suppliers. The claim form will be sent with the offer letter.
When businesses must submit the report
Successful applicants will need to complete a short report three months after claiming the grant. The offer letter will set out the information that must be collected. Typically we will ask for:
Photos
Description of the benefits your organisation has gained
A record of the distance travelled. Mileage can be recorded on a bike computer, or on a suitable app. A log sheet will be provided.
Apply now even if you can't use until after lockdown
Businesses can apply for an E-bike even if it will not be used until after lockdown, or if lockdown will reduce the estimated level of use.
Applicants should explain on the application form if the current lockdown will affect their estimated use of the E-bike.
The report deadline can be adjusted for successful applicants affected by lockdown.
Delegated Grants team contact details
For all enquiries about completing your application, or if you would like help to understand this document, or would like it in another format or language, please contact us. Please help us to help future applicants, by telling us if you have any queries which aren't answered in this document.
Send Email