Marches Renewable Energy project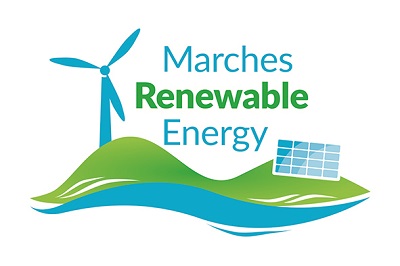 MarRE is a grant scheme allowing eligible applicants based in the Marches to apply for a 50% grant towards new installations of renewable technologies on their premises.
Installations ranging from 4kWp to 200kWp (system kilowatt peak) can be supported.
The renewable energy generated should be used by the applicant.
Eligible applicants
Local authorities
Statutory and non-statutory public funded organisations/bodies
Higher and further education institutions
Voluntary/community organisations
Registered charities and not-for-profit organisations
Small and medium sized enterprises with less than 250 employees
Eligible applicants must be located in the Marches local authority areas of Herefordshire, Shropshire, and Telford & Wrekin.
Qualifying renewable technologies
Wind
Solar
Aerothermal - including air source heat pumps
Geothermal - including ground source heat pumps
Hydrothermal
Hydropower
Biomass
Landfill gas
Sewage treatment plant gas and biogases
Not eligible
Domestic and residential properties
Primary agriculture
Landlords
New builds
Costs incurred before grant approval
Retrospective applications
Applicants with less than a 5 year lease on the installation premises
Installations of less than 4 kWp and larger than 200kWp
Case studies
The project is well under way and you can see the case studies for our first installations here:
How to apply
We are currently closed to expressions of interest from potential applicants based in Herefordshire only, as we currently have more interest than funding available. We will update this webpage with further information in due course.
We've developed a two-stage application process to try to ensure a quick turn-around in the decision making process.
Applicants should firstly complete an expression of interest form.
Applicants whose expression of interest is considered eligible will be sent full application forms which, once submitted, will be assessed by the project steering group.
Please complete the expression of interest form and return to delegatedgrants@herefordshire.gov.uk
If you would like to discuss your proposal before completing the form please contact Adrian Marshall, MarRE Project Manager on 01432 260064.
Download the Expression of interest form
Closing date for full applications - before midnight Sunday 20 June 2021
In order for your organisation to be in with the best chance of securing 50% ERDF funding towards your renewable energy project, all completed applications and supporting documentation must be submitted to us before midnight on Sunday 20 June 2021. Applications received after this date will not be considered.
We strongly suggest that applications are submitted at the earliest opportunity and well in advance of the June deadline so that any queries or missing information can be dealt with and provided before 20 June; so please use this time to liaise with the MarRE Project Team. Any applications that are incomplete or have not completed the required procurement/tender process by the deadline will not be considered for approval by the Project Board.
The selection process:
Full applications to be submitted by email to delegatedgrants@herefordshire.gov.uk at the earliest opportunity in advance of the deadline
Initial checks and assessments completed by the MarRE Project Team and any additional information required will need to be provided by the applicant
All full applications and supporting documentation to be received by midnight on Sunday 20 June
Appraisal completed by the MarRE Steering Group.
Steering Group recommendations to the MarRE Project Board for approval/endorsement
Grant offer letters issued to successful applicants by the end of July.
Funding is limited, therefore we cannot guarantee that all eligible projects will be funded. Funding is now fully allocated in Herefordshire. We may consider a further round of applications for consideration should there be any grant funds remaining after this date.