Local support for Armed Forces veterans
Herefordshire has a large community of former service personnel settled and living in the county. There is a range of dedicated services available locally and nationally for veterans to access, particularly in times of need.
Support
Herefordshire's Veteran Support Centre
Herefordshire's Veteran Support Centre (VSC), offers a friendly and safe one-stop shop for anyone in the armed forces community. If you are serving or have served in HM Forces: Royal Navy, Army or Royal Air Force, (including National Service), local support is on hand for you and your family. The VSC aims to quickly refer you to the right organisation to ensure you get the best support. It works closely with a range of providers who are able to use the flexible spaces at the centre for meetings and workshops. The VSC can also support individuals seeking support with training, employment and volunteering opportunities.
19 West Street, Hereford HR4 0BX
Opening times: Mon/Wed/Fri 9.30am to 4.30pm
Call 01432260656 or email Sean.Gane@herefordshire.gov.uk
Veterans' Gateway
Wherever you are in the UK the Veterans' Gateway offers comprehensive, single point of contact and online support to veterans and their families. The service will signpost you to your nearest support so you can get the help you need. It also offers lots of information and guidance including a team of advisers available 24 hours a day on 0808 802 1212.
Service to Civvy Street
The Service to Civvy Street booklet is packed full of practical and useful information to help you and/or your family members settle into civilian life in Herefordshire.
Armed Forces and Veterans Breakfast Club
For veterans and serving members of the Armed Forces. There are Veterans Breakfast Clubs all over the UK and further afield that all share the same ethos of mutual support and understanding. Breakfast Clubs exist to facilitate veterans (also quite often current service personnel) meeting face to face in a relaxed, safe, social environment.
They meet every fortnight on Saturday mornings at 9.30am in Hereford and Leominster. ​For further information contact:
Leominster: Lynne on 07964011353 or searching Leominster Armed Forces and Veterans Breakfast Club on Facebook
Hereford: David on 07526 246942 or searching Hereford Armed Forces and Veterans Breakfast Club on Facebook
Herefordshire Veterans Support Group
Herefordshire Veterans Support Group (HVSG) provides a safe and friendly environment where ex-service personnel can talk confidentially with like-minded people about any health or well-being issues they have. HVSG works with charities like SSAFA, Royal British Legion, The Warrior Programme and Combat Stress.
HVSG meets at Saxon Hall, Hoarwithy Road, Hereford on Mondays and Thursdays between 11am and 4pm.
For more information email Alan ajhvsg1967@gmail.com or find the Herefordshire Veterans Support Group on Facebook.
The Buchanan Trust
Set in 700 acres in rural Herefordshire, The Buchanan Trust provides a working-farm base recovery unit for veterans, including residential accommodation.
The Cart Shed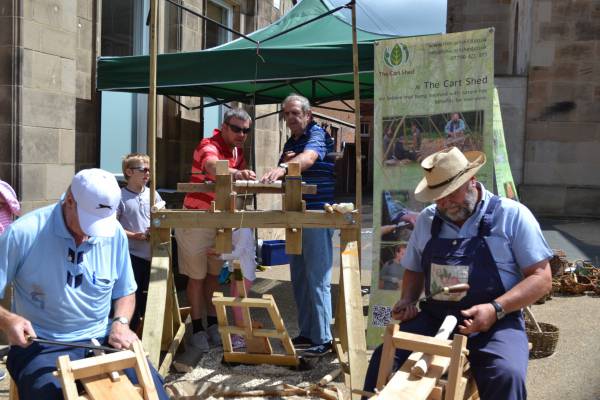 The Cart Shed runs a veteran programme in North Herefordshire offering a range of courses in coppicing, crafts, hedging/fencing and horticulture. Running alongside the programme is specialist mental health support to help manage issues individuals may be facing. To find out more visit The Cart Shed.
Hereford Cafe and Hub
This city centre cafe is run by the First Light Trust. The cafe is open to the public alongside offering service to those who served in the emergency services and armed forces and their families. The cafe provides specialist support to anyone in crisis, in particular anyone suffering from PTSD, depression and anxiety, homelessness, drug and alcohol issues.
SSAFA
Herefordshire has an active local branch of SSAFA who offer experienced, non-judgemental and friendly advice, as well as a variety of practical services which cover a range of social, family and financial issues.
Royal British Legion
The Royal British Legion helps the Armed Forces community through welfare, companionship and representation as well as being the nation's custodian of remembrance. They can also support through their area welfare team that can be accessed through the Military Charities Help Desk at Customer Service Centre, Blueschool House, Hereford or through their Helpline on 0808 802 8080 (8am to 8pm all week)
Combat Stress
Combat Stress provides mental health support for veterans and serving personnel. Their clinical and professional outreach team develop a programme of treatment and support to meet individual needs. They are also available online and through their 24 hour helpline – for more details visit the Combat Stress website.
Help for Heroes
Help for Heroes supports those with injuries and illnesses attributable to their service in the British Armed Forces. They have a Community Recovery Team who identify priority areas to improve physical and mental health and wellbeing. They offer a range of services including sport recovery sessions, clinical and professional support. The Recovery team in Wales also covers Herefordshire.
Veterans UK (Pensions and compensation)
Veterans UK administers the armed forces pension schemes and compensation payments for those injured or bereaved through service. They also provide welfare support for veterans of any age, and their families through the Veterans Welfare Service and the Veterans UK. Helpline: 0808 1914218 or visit Veterans UK website for more information.
Drug and alcohol support
Turning Point (formerly We Are With You)
Turning Point offers specialist support and treatment to those affected by drugs and alcohol in Herefordshire. The service offers one-to-one and group work for those in need, including families and loved ones. You can get in touch with us by calling 0300 555 0747 or emailing Herefordshire@turning-point.co.uk You can access support by referring yourself or via your GP. For further information on how we can support you please visit the Turning Point Herefordshire website.
Health and wellbeing
Armed forces healthcare
The armed forces healthcare section of the NHS website explains how the NHS can help if you're in military service or a veteran.
The Wye Valley NHS Trust - Armed Forces support and information
As part of the Trust's commitment to the Armed Forces Covenant and future accreditation as a member of the Veterans Covenant Hospital Alliance, they now have dedicated information on their website outlining their support to both patients and staff with military backgrounds as well as improving healthcare for those who serve or have served, and their families. Read more on the Wye Valley NHS Trust - Armed forces and veterans page.
GPs
To ensure veterans access the right treatment at the right time there are some good points to bear in mind. Registering with a GP is probably one of the most important things you will need to do. Ensure you tell them of your military background so they can access your medical records and give you the support you need. There are a number of Herefordshire surgeries that are accredited as Veteran Friendly:
Belmont Medical Centre, Eastholme Avenue, Belmont, Hereford HR2 7XT
Cantilupe Surgery, 51 St Owen Street, Hereford HR1 2JB
Colwall Surgery, Stone Drive, Colwall, Malvern WR13 6QJ
Cradley Surgery, Bosbury Road, Cradley, Malvern WR13 5LT
Kingstone Surgery, Kingstone HR2 9HN
Kings Street Surgery, 22A King Street. Hereford HR4 0RG
Moorfield House Surgery, 35 Edgar Street, Hereford HR4 9JP
Wargrave House Surgery, 23 St Owen Street, Hereford HR1 2JB
Defence Medical Welfare Service
Providing practical and emotional support to the armed forces community whilst they are receiving medical treatment. Herefordshire has a caseworker based at the County Hospital. Call: 07785614832
Dentists
Use the NHS search site to find NHS and private dentists in Herefordshire.
Talk Community Directory
Talk Community Directory is the wellbeing and signposting online directory for Herefordshire. If you are looking for a service, support group, advice or service for a particular issue this online directory gets you quickly to a local contact.
Veterans' Mental Health Transition, Intervention and Liaison Service
An NHS local and regional service for veterans, provided by specialist staff in mental health who have an expert understanding of the armed forces. Call 0300 323 0137.
Support in the Criminal Justice System
YSS: Remember Veterans
A project that runs across Herefordshire, Worcestershire, Telford and Shropshire, funded by the Police Crime Commission and Armed Forces Covenant. The service provides specialised support to veterans across West Mercia, who are involved with, or are at risk of being in the criminal justice system. Link workers provide practical and emotional one to one support to veterans in the community, in custody and on release from prison in order to reduce the likelihood of offending/re-offending. The project also works closely with West Mercia Police in custody suites, with probationary agencies and related services.
Please contact Lisa, the Senior Link Worker for Worcestershire and Herefordshire on 07773 930149 or email Lisa.burnett@yss.org.uk
For more details please visit the YSS Remember Veterans website.
Housing
Herefordshire Council do not own or manage any homes. All Herefordshire's social housing is owned and managed by housing associations operating in the county. View a full list of housing associations including steps to finding an affordable home. Also see our housing advice for the Armed Forces.
Veteran Self-Build Project
The Veteran Self-Build Project based in Leominster was completed in December 2020 on land transferred from Herefordshire Council to Stonewater Housing. Six veterans worked on the site, supported by homeless charity Alabare. The veterans gained construction qualifications while building their own homes, with the remaining homes for the local community. A total of 19 accommodation units, (1, 2 and 3 bed homes), were built in total.
Employment
See information about finding a local job on the Resettlement page.
If you are unable to find the help you need please contact your local Armed Forces Covenant Partnership at: hafc@herefordshire.gov.uk