Settling in Herefordshire - Armed Forces information
This section provides some useful local information to help with civilian life if you and your family are settling in Herefordshire.
Service to Civvy Street
A comprehensive local booklet which covers housing, employment, healthcare, education, council tax and benefits, veterans groups and service charities, community safety and tourism and events. The booklet is available at a number of locations including at the Military Charities Helpdesk in the Customer Service Centre at Blueschool House, Hereford, Blueschool Street, Hereford HR1 2LX.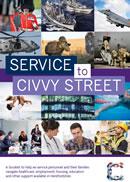 Alternatively, you can download a copy of Service to Civvy Street.
General information is also available on the government website in the Service Leavers Guide.
Defence Discount Service
Defence Discount Service provides discounts both online and on the high street for members of the Armed Forces, Veterans and Armed Forces Community. Visit the Defence Discount Service website to apply.
Forces Compare
Forces Compare is an independent search engine, specialised in comparing the best insurance and finance options for those with a military background.
The Unsung Hero Programme
A business start-up programme developed specifically for dependants of the Armed Forces community. Run by Herefordshire's Business Solution Centre. Visit the Unsung Hero Programme website for more details.
Schools and colleges
Use our education pages to find out about our county schools and colleges, together with guidance on admission and extra support.
Employment
Finding a local job
Visit the Hoople Recruitment website for a comprehensive round-up of local vacancies in the public sector.
X-FORCES
X-FORCES provides comprehensive enterprise and business support to service leavers, veterans, reservists, cadets, spouses and families. They offer training, mentoring and funding opportunities for business start-ups. To find out more about their work visit X-FORCES website.
Forces Families Jobs​
A dedicated website for family members of serving personnel seeking training or employment. ​​Visit the Forces Families Jobs website.
Hereford Job Centre Plus
Find your nearest local job centre offices in Herefordshire, including a full list of current vacancies. Your local job centre can administer claims for Jobseeker's Allowance, Incapacity Benefit, Employment and Support Allowance and Income Support.
Forces Recruitment Solutions
Ex-military recruitment specialists. Visit the website at: Forces Recruitment Solutions.
Forward Assist Recruitment
A recruitment service, dedicated to those who have served in the Armed Forces. Visit Forward Assist Recruitment.
Step into Health
Provides a dedicated pathway for the Armed Forces community to access the numerous career opportunities available in the NHS. Visit Step into Health - NHS development and employment opportunities for members of the Armed Forces.
Career Transition Partnership (CTP)
The CTP provides resettlement services for those leaving the Royal Navy, Army, Royal Air Force and Marines. Regardless of time served, all members of the Armed Forces can benefit from CTP support when leaving Service. The partnership also operates as an intermediary service for employers wishing to hire Service leavers. Visit Career Transition Partnership.
Social care and support
For an overview of support available for children and adult social care please visit Herefordshire Council's Social care pages.
Armed Forces healthcare
Find out how the NHS can help if you're in military service or a veteran at NHS Armed Forces healthcare.
Talk Community Directory
Talk Community Directory is the wellbeing and signposting online directory for Herefordshire. If you are looking for a service, support group, advice or service for a particular issue this online directory gets you quickly to a local contact.
Housing
Herefordshire Council do not own or manage any homes. All Herefordshire's social housing is owned and managed by housing associations operating in the county. View a full list of housing associations including steps to finding an affordable home. Also see our housing advice for the Armed Forces.
And finally... if you are unable to find the help you need, please contact your local Armed Forces Covenant Partnership at: hafc@herefordshire.gov.uk