About the Armed Forces Covenant
The Armed Forces Covenant is a promise by the nation that those who serve or who have served in the armed forces, and their families, will be treated fairly.
The covenant has five aims, to:
Encourage local communities to support the Armed Forces communities in their areas
Nurture public understanding and public awareness of the issues affecting the Armed Forces community
Recognise and remember the sacrifices faced by the Armed Forces community
Encourage activities which help to integrate the Armed Forces community into local life
Encourage the Armed Forces community to help and support the wider community
The Covenant for Herefordshire was signed on 29 May 2012 by the Armed Forces community, Armed Forces charities and representatives from the public, private and community sectors. Brigadier Mark Banham, MBE, who was Commander 143 (West Midlands) Brigade, the late Councillor Olwyn Barnett, who was Herefordshire Council chairman, and Lady Darnley, the Lord-Lieutenant of Herefordshire, were among those who signed.
Who is involved?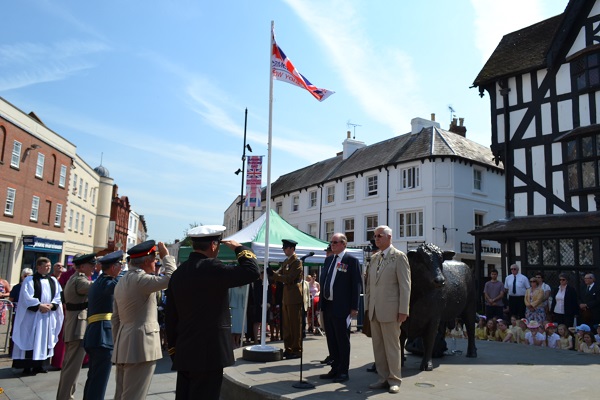 Herefordshire Council is a member of the Herefordshire Armed Forces Covenant Partnership (HAFCP). This is a cross-sector partnership, which is responsible for implementing the Herefordshire Armed Forces Covenant Action Plan. It is chaired by Councillor Barry Durkin, the elected Armed Forces Champion. As well as facilitating the partnership, Herefordshire Council is the recipient of both bronze and silver awards, under the MoD's Employer Recognition Scheme, as part of their ongoing commitment as an armed forces friendly employer.
The HAFCP comprises representatives from military charities, the voluntary sector, serving Armed Forces personnel, veterans, reserves, cadets, Job Centre Plus, the diocese, West Mercia Police and the NHS.
HAFCP has initiated a number of major projects and funding opportunities to support the county's Armed Forces community. As well as having a strategic overview, HAFCP have sub-groups which address key areas of need. These include: housing, health and well-being, mental health and employment.
Armed Forces Covenant Fund Trust
The Armed Forces Covenant Fund Trust provides funding support to those leaving the Armed Forces and helps integrate military and civilian communities through local projects and activities. For those considering applying to the Trust for a local project, please contact us for further support at hafc@herefordshire.gov.uk
Contact us
If you would like to know about the work of the HAFCP please contact us at: hafc@herefordshire.gov.uk