Trees for Hereford city residents, businesses, schools and colleges
Thank you for your interest in the scheme. All trees have now been allocated and the scheme closed on 3 March 2021.
Hereford is set to become a greener city thanks to 500 new trees being given to local residents, businesses, organisations, schools and colleges to plant in their gardens or on their land.
If you live or run a business, organisation, school or college, or own land in Hereford, within the black line boundary marked on the map below, and have space to plant a tree we would love to provide you with one, and deliver it to you, free of charge.
This scheme is administered by Herefordshire Council and is fully funded by the government's Accelerated Towns Fund.
You can apply for one tree for your home garden and up to five trees for space at a business, organisation, school or college.
This is a great opportunity for you to contribute to the future of the city by helping to enhance the green environment, tree canopy cover and biodiversity for future generations. There is a range of tree species available to suit gardens and other open spaces.
The scheme closes on 24 March 2021, however, the scheme may close earlier if the trees have been allocated.
Please note that businesses based at residential addresses are only eligible for one tree.
If we receive more than one application for the same household then we will only process the first application.
How to apply
Thank you for your interest in the scheme. All trees have now been allocated. We will reopen the application form if any more trees become available so please check back soon.
Check whether you live, or your business, organisation, school or college is in, the eligible area on the map
Look at the photos and description of the trees available to choose your tree
Complete the tree application form
Privacy notice for Hereford city trees scheme
What happens next?
We will confirm your eligibility. If you are eligible, we will pass your details to the tree supplier, Frank P Matthews. They will carefully pack your tree (approximately 3ft-5ft at despatch) along with a suitable supporting stake, tree tie, 'root grow' and how to guide, and will organise delivery of your tree to you in a Covid-safe way.
You should expect to receive your tree within 18 days.
Unable to plant your tree?
For any residents who would like a tree through the scheme but are physically unable to plant it, a handyman service is available for a small charge. This is provided by the council's You at Home service, call 01432 260757 or email yahreferrals@herefordshire.gov.uk for further advice.
Eligible area for trees scheme (within black boundary line)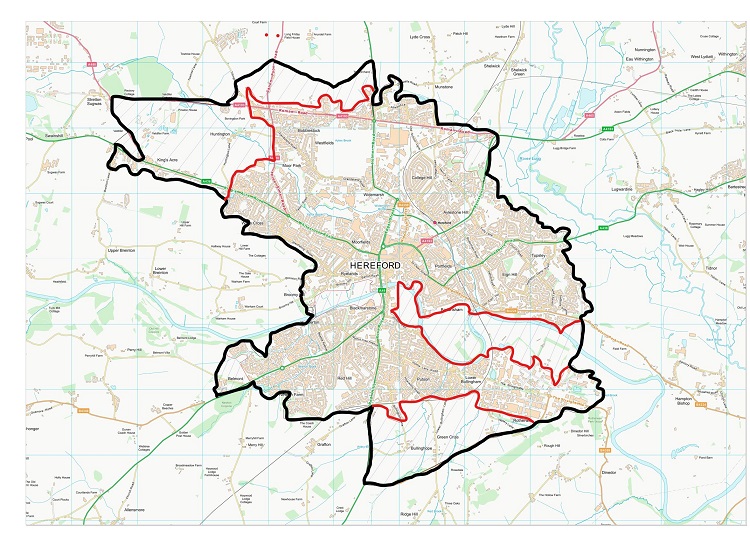 If you have any queries about the scheme please email citytrees@herefordshire.gov.uk