Council premises to let
If you are interested in a property, please contact the named officer first to find out if the property is still available.
Rateable values
Properties with a rateable value under £12,000 will currently not pay business rates as long as that is the only property that the tenant occupies. Properties with a rateable value over £12,000 are awarded small business rates relief awarded on a sliding scale. If you have any questions about rateable values please contact business rates on 01432 260360. Please visit our Small business rate relief page for more information.
---
Offices, The Old Police Station, 1 Market Hall Street, Kington HR5 3DD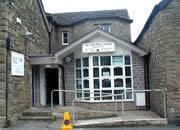 Small business units close to Kington town centre and public car parks.
Office 9
10.6m2 (114ft2) first floor, stair access, shared kitchen/toilet
Rent £1,260 per annum (£105 per month) is inclusive of heating, lighting and water but excluding business rates
£740 (rateable value) x £0.499p (multiplier) = £370 (basic business rates payable) - small business rate relief may apply
Office 7
12.9m2 (139ft2) first floor, stair access, shared kitchen/toilet
Rent £1,529 per annum (£128 per month) is inclusive of heating, lighting and water but excluding business rates
£890 (rateable value) x £0.499p (multiplier) = £445 (basic business rates payable) - small business rate relief may apply
Former Court Room/Training Room
58.7m2 (632ft2) own ground floor level access, shared kitchen/toilet
Small Office 4
10.4m2 (113ft2)
£4,800 (rateable value) x £0.499p (multiplier) = £2,396 (basic business rates payable) - small business rate relief may apply
Rent £5,000 per annum (£417 per month) is inclusive of heating, lighting and water but excluding business rates
The Former Court Room and Small Office are to be let together
For further details contact Suzanne Garlick on 01432 260689 or email sgarlick@herefordshire.gov.uk
---