LEGO® - Brick History Exhibition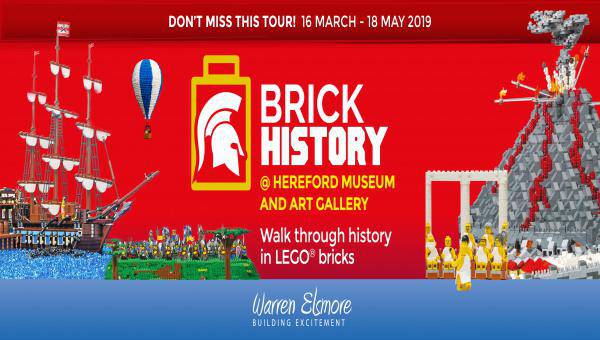 LEGO® - Brick History takes famous moments from history and imagines them in LEGO® bricks - how many will you recognise?
From DNA and the Big Bang to Mozart, Martin Luther King and mobile phones, LEGO® artist Warren Elsmore and his team have created a celebration of our shared stories, struggles, and triumphs, made from everyone's favourite Danish toy.
From tiny recreations of Concorde and the Titanic that could fit in your hand, to a 1.5m square medieval castle bustling with activity, there are models to make you smile, to make you think, and to inspire you to build a better world.
The exhibition will be at Hereford Museum and Art Gallery from 16 March to 18 May 2019.
Tickets
£2 child
£3.50 adult
£8.50 family (2 adults, 2 children)
Under 5s and carers free
(Plus £1.50 booking fee per transaction)
Book LEGO® tickets or call The Courtyard Box Office on 01432 340555.
The main exhibition is on the first floor which is accessible by lift and stairs. Toilet facilities are on the ground floor.
Display your own LEGO model
Display your own LEGO models in the museum during the LEGO® Brick History exhibition.
Models can be your own creations, they can have a Herefordshire theme, or they could be made from a LEGO set.
Get in touch telling us what you have and what size your model is, email jstevenson@herefordshire.gov.uk
For further information phone 01432 383383.
Family Saturdays and Easter holiday activities
Details coming soon.
School visits
School bookings can be taken for either a morning or an afternoon visit.
Tickets - £60 per class. Suitable for all age groups.
To book call the museum team on 01432 383383 or email herefordmuseums@herefordshire.gov.uk
LEGO® Brick History City Trail
As part of the exhibition, Hereford BID will host a LEGO® trail around Hereford city centre. Complete the City LEGO® Trail to enter the prize draw.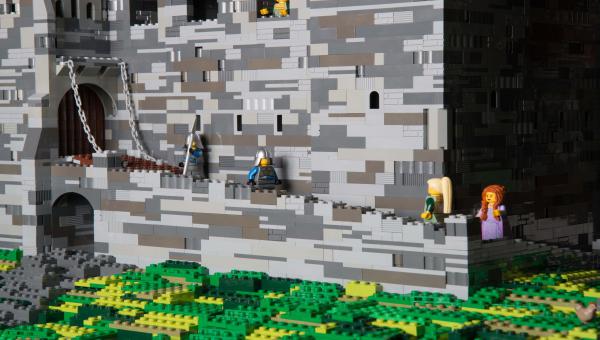 Detail from the castle
Supported by