LEGO® - Brick History Exhibition, 16 March to 18 May 2019

LEGO® - Brick History takes famous moments from history and imagines them in LEGO® bricks - how many will you recognise?
From DNA and the Big Bang to Mozart, Martin Luther King and mobile phones, LEGO® artist Warren Elsmore and his team have created a celebration of our shared stories, struggles, and triumphs, made from everyone's favourite Danish toy.
The exhibition is at Hereford Museum and Art Gallery, Broad Street, Hereford HR4 9AU from 16 March to 18 May 2019.
Opening times are Monday to Thursday and Saturday 10am to 4pm, Friday 10am to 6.30pm and Sunday 14 April 10am to 4pm.
There are limited tickets available at the venue so advanced purchase is advised.
Tickets
£2 child
£3.50 adult
£8.50 family (2 adults, 2 children)
Under 5s and carers free
(Plus £1.50 booking fee per transaction)
Exhibition tickets have timed entrance on Saturdays and daily throughout the Easter holidays (13 April to 27 April) of 10am, 11.30am, 1pm and 2.30pm. Plus late Friday entrance of 4pm. On all other days tickets allow entrance for any time of the day from 10am onwards.
Book LEGO® tickets or call The Courtyard Box Office on 01432 340555.
The main exhibition is on the first floor which is accessible by lift and stairs. Toilet facilities are on the ground floor.
Displays of your own LEGO® models
The museum is hosting displays of public models during the LEGO® Brick History exhibition. Come and see the fantastic creations, Herefordshire landmarks and favourite LEGO® themes, made by people of all ages.
If you have a model you would like to display contact herefordmuseums@herefordshire.gov.uk or call 01432 383383.
Family Saturdays and Easter holiday activities
We have some amazing activities taking place while the LEGO® Brick History Exhibition is on. Find out more about the activities.
School visits
School bookings can be taken for the exhibition with schools activity guides supplied. Bookings for either a morning or an afternoon visit. Tickets are £60 per class for up to 30 children. Suitable for all age groups. To book call the museum team on 01432 383383 or email herefordmuseums@herefordshire.gov.uk
LEGO® Herefordshire flag making in Hereford High Town
Saturday 30 March - open access session between 10am and 3pm in High Town.
Come along and create a Herefordshire flag design in LEGO® - could it be the inspiration for the winning flag design? Open to all ages (children must be accompanied), just pop in and have some fun with LEGO® designing your own flag. Organised by IGNITE.
Hereford City LEGO® Trail
Hereford BID is hosting a LEGO® trail with models made by schools and groups across the county. Families are challenged to find all the LEGO® models in shops around High Town and take a selfie. Balloons will be awarded at the end, and each completed trail will be entered into a prize draw at the museum to win one of three amazing LEGO® sets kindly donated by Hereford Model Centre, Philip Morris and Son, and The Entertainer. Find out more about the Hereford City LEGO® Trail.
LEGO® comes to Hereford
Other venues across Herefordshire are hosting a range of LEGO® events during the time of the exhibition. Look out for more LEGO® fun!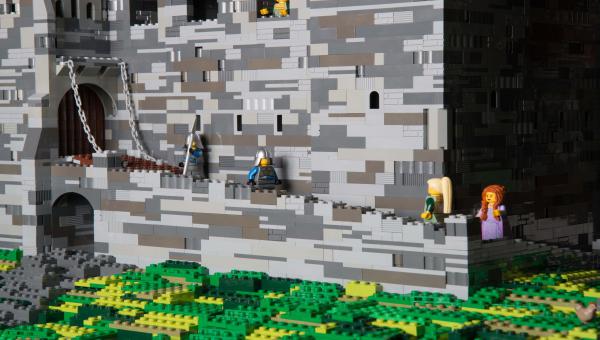 Detail from the castle
Supported by